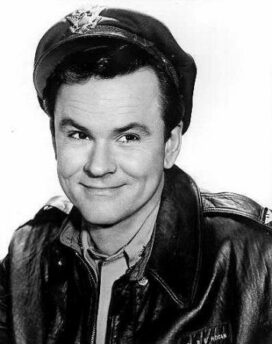 Best known as:
Star of TV's Hogan's Heroes
---
---
Bob Crane Biography
Bob Crane starred on the hit 1960's sitcom Hogan's Heroes, which ran in prime time from 1965 to 1971. The show was set in a World War II prisoner of war camp in Germany; Bob Crane played Colonel Robert Hogan, a crafty POW leader who constantly outwitted his bumbling Nazi guards. (The cast included Richard Dawson as a British POW and John Banner as the buffoonish Sergeant Schultz.) Crane is also notorious for his mysterious death in Scottsdale, Arizona on 29 June 1978. Crane was found bludgeoned to death in his own motel room, and investigations revealed that Bob Crane had a racy personal life which included a habit of videotaping his encounters with various women. Crane's friend John Carpenter (no relation to the movie director by that name) was later tried for the crime but found not guilty, and the murder remains officially unsolved.
Extra credit
Auto-Focus, a 2002 film about Bob Crane's life and death, was directed by Paul Schrader and stars Greg Kinnear as Crane… Both Mel Gibson and Russell Crowe have expressed interest in playing Col. Hogan in a separate feature film version of Hogan's Heroes, but the film has never gotten off the ground… Before beginning his acting career, Bob Crane was a popular morning radio disc jockey on Los Angeles station KNX… Bob Crane's second wife (1970-78) was actress Sigrid Valdis, who played the blonde secretary Hilda on Hogan's Heroes… Their son Robert "Scotty" Crane became a radio host and co-creator of the radio comedy show Shaken, Not Stirred… Hogan's Heroes is sometimes compared with the more serious 1953 POW film Stalag 17, which starred William Holden.
---
Related Biographies
Something in Common with Bob Crane