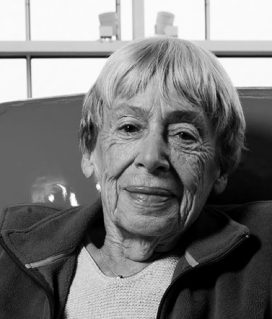 Facts about Ursula
Le Guin
Ursula K. Le Guin
is 88 years old
Best known as:
Top science fiction author
---
---
Ursula K. Le Guin Biography
Name at birth:
Ursula Kroeber
American author Ursula K. Leguin is one of the more lauded science fiction authors of the 20th century, the author of The Earthsea Trilogy and The Left Hand of Darkness.
Ursula Le Guin was educated at Radcliffe College and Columbia University, and began publishing science fiction stories and novels in 1964.
In 1969 Le Guin won the Hugo and Nebula Awards for The Left Hand of Darkness, and in 1974 she won the Hugo and Nebula Awards for The Dispossessed.
She has written on a wide variety of subjects, but is most known for her science fiction and fantasy novels and stories that explore political and social relationships in alien worlds. Her novels include the Earthsea series (which began as a trilogy but added three novels and eight stories), The Lathe of Heaven (1971), The Telling (2000) and the series Annals of the Western Shore (2004-07).
Also an author of children's books, Le Guin won the National Book Award in 1972 for The Farthest Shore, and has authored several books in the Catwings series.
---
Something in Common with Ursula K. Le Guin