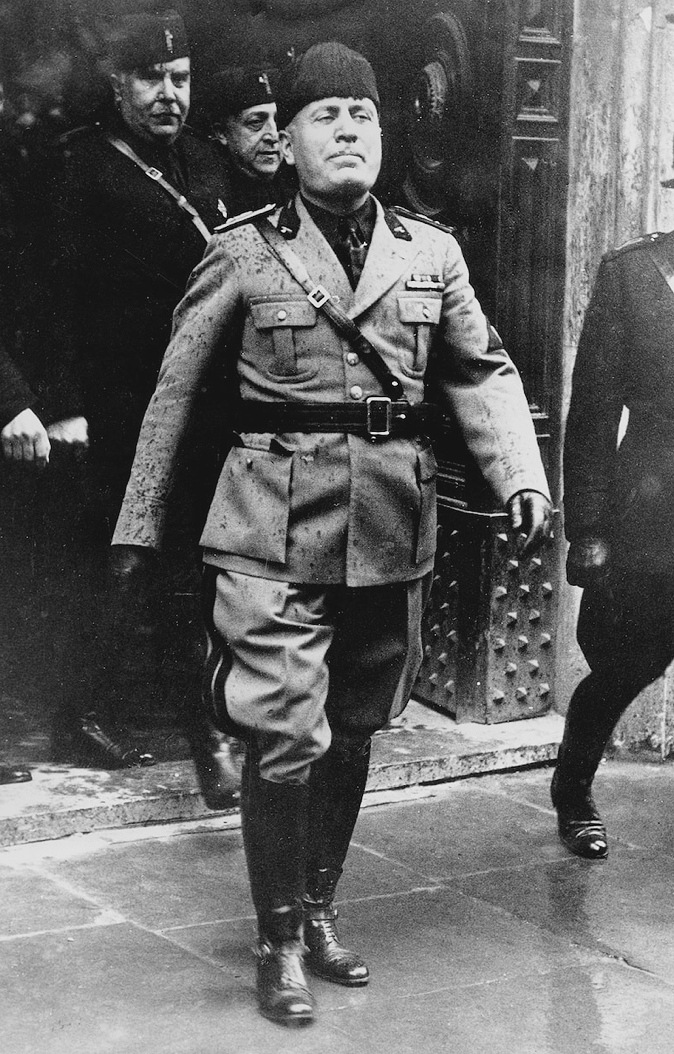 Facts about Benito
Mussolini
Best known as:
Italy's dictator during World War II
---
---
Benito Mussolini Biography
Known as "Il Duce" — the Leader — Benito Mussolini was the Fascist dictator of Italy during World War II.
Benito Mussolini was born in a small town in northern Italy. His mother was a schoolteacher, his father a blacksmith. Mussolini grew active in Italian politics in the first decade of the 1900s. At age 19 he emigrated to Switzerland (and later to Austria-Hungary), where he worked writing and editing socialist newspapers.
He returned to Italy after serving as a rifleman in World War I and gained power and notoriety as a revolutionary nationalist. Mussolini founded the Fascist Party in 1919, used force and intimidation against political opponents, and took power in 1922, creating a dictatorship and dissolving Italy's parliament.
Bald and blustery, he loved fancy uniforms and liked to strut and posture proudly during public appearances. Despite his heavy-handed tactics, he was popular with the common people for many years as he expanded government services and "made the trains run on time."
In the 1930s Italy invaded Ethiopia and Albania and in 1939 Mussolini promised an alliance with Adolf Hitler's Nazi Germany. But Mussolini's fall was nearly as swift as his rise: Italy's failures in the war led to Mussolini being ousted from power in 1943. He was arrested but then rescued by German troops, after which Hitler set him up as the head of government in Northern Italy.
As the war ended in 1945, Mussolini tried to escape to Switzerland but was seized by Italian partisans, who shot him and then strung up his body in Milan for public display.
Extra credit
Benito Mussolini was married twice: to the former Ida Dalser from 1914 until their divorce in 1915; and to Rachelle Guidi from 1915 until Mussolini's death in 1945. (He had been having a romance with Guidi since 1910.) With Ida Dalser he had one son, Benito Albino Dalser-Mussolini (born 1915). With Rachelle Guidi he had five children: Edda (b. 1910), Vittorio (b. 1916), Bruno (b. 1918), Romano (1927), and Anna-Maria (b. 1929).
---
Related Biography
Something in Common with Benito Mussolini
4 Good Links
Focuses on Italy during World War II, with plenty on Mussolini

The Independent explains the famous saying

A collection from History.com

Merriam-Webster looks at the term and its connection to Mussolini
Share this: