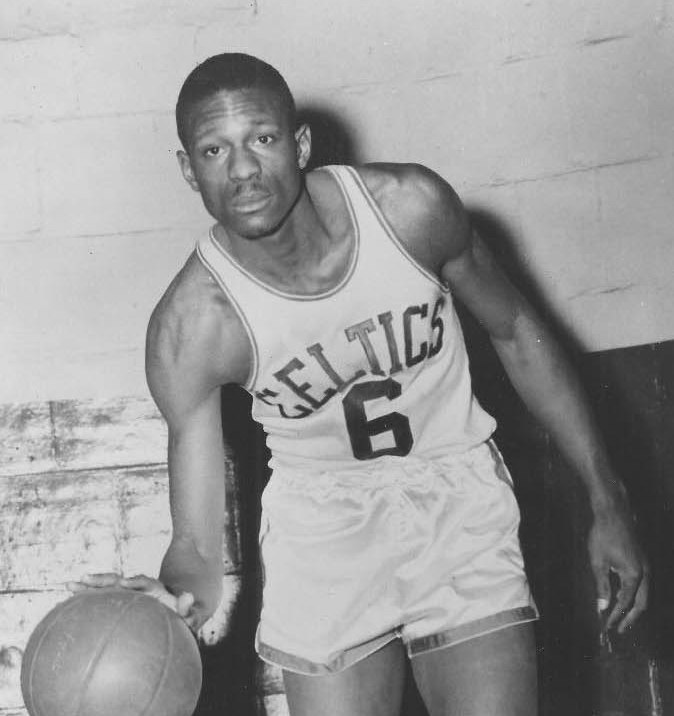 Best known as:
11-time NBA champion with the Boston Celtics
---
Bill Russell Biography
Name at birth:
William Felton Russell
Bill Russell was the tall, fiercely competitive center who led the Boston Celtics to an unprecedented 11 NBA titles from 1956-1969.  His coach, Red Auerbach, called Russell "the single most devastating force in the history of the game."
Gawky as a youngster — he was cut from his junior high basketball team — Bill Russell worked his way onto the high school varsity team and then played basketball at the University of San Francisco from 1953-56. USF won national championships in 1955 and 1956, led by Russell's aggressive shot-blocking, basketball smarts, and competitive fire. Russell also led the U.S. basketball team to the gold medal at the Melbourne Summer Olympics of 1956.
The Boston Celtics traded for Russell after he was chosen second overall by the St. Louis Hawks in the 1956 NBA draft. From there it was on to glory for Russell: he averaged 19.6 rebounds a game that year as the Celtics went on to win the first of their 11 championships in Russell's 13-year career. Over those years he averaged an astounding 22.5 rebounds a game and 15.1 points per game. The Celtics dominated the league, winning eight straight championships from 1958-66. When Red Auerbach retired in 1966, Russell took over as player-coach, and won two more championships (1968 and 1969) before retiring. The NBA's first Black coach, he later coached at Seattle (1973-77) and Sacramento (1977-78).
Off the court, Russell was known as a taciturn and blunt-spoken man who did not go out of his way to charm sportswriters or the public. A Black man in an era of extreme racism, and in a city known for particularly bad race relations, Russell often endured racial abuse and was known for embracing Black causes; he took part in the 1963 March on Washington with Dr. Martin Luther King, and attended the famous 1967 Cleveland Summit to support boxer Muhammad Ali. Russell was also known for his long on-court rivalry, and off-court friendship, with fellow NBA star Wilt Chamberlain.
Bill Russell received the Presidential Medal of Freedom from President Barack Obama in 2011. He was inducted into the Basketball Hall of Fame as a player (in 1975) and as a coach (in 2021). The most valuable ploayer award for the NBA Finals was renamed the Bill Russell Award in 2009.
Extra credit
Bill Russell was 6'10" tall and weighted 215 pounds during his playing days, according to NBA.com… Bill Russell wore uniform number 6 with the Boston Celtics; the Celtics retired the number in 1972… Bill Russell was married four times: to his college sweetheart Rose Swisher from 1956 until their divorce in 1973; to former Miss USA Dorothy Anstett from 1977 until their divorce in 1980; to Marilyn Nault from 1996 until her death in 2009; and to Jeannine Russell from 20xx until his death in 2022. With Rose Swisher he had three children:  daughter Karen and sons William Jr. and Jacob.
---
Related Biographies
Something in Common with Bill Russell
4 Good Links
NBA.com has a nice recap of his life and career

Nifty 2022 story from The Ringer about their great rivalry

The New York Times has his full obituary from 2022

All his stats, year by year, with terrific detail
Share this: