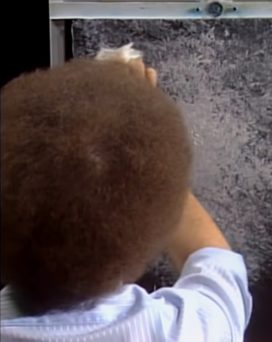 Best known as:
The fuzzy-haired public television landscape painter
---
---
Bob Ross Biography
Name at birth:
Robert Norman Ross
Public television's Bob Ross made his educational painting show, The Joy of Painting, at station WIPB in Muncie, Indiana from 1983 to 1994.
After his death in 1995, Bob Ross, Inc. went on to become big business, and his hundreds of videos have millions of fans.
Before he was a famous TV painter, Ross was a high school dropout from Florida who joined the Air Force in 1961 and retired twenty years later as a sergeant.
While stationed in Alaska, Bob Ross spent his free time painting, and discovered the public television show The Magic of Oil Painting with Bill Alexander.
Ross adopted Alexander's technique and practiced making landscape paintings in thirty minutes. He painted landscapes onto gold pans in Alaska.
After leaving the Air Force, Ross went to work for Alexander as a traveling painter — while selling Alexander's line of paint and tools.
Then Ross went out on his own and partnered up with Annette and Walt Kowalski. They formed Bob Ross, Inc., landed a TV show in Muncie for Bob and became direct competitors of Alexander.
The videos lived on after Ross died of cancer in 1995.
His position as a pop culture hero went from ironic to iconic, and his image became well-known: the fuzzy hair, the soft voice, his insistence that there were no mistakes, simply "happy accidents," and his occasional chats with adopted wildlife (mostly squirrels).The official site of the corporate entity
---
Something in Common with Bob Ross
4 Good Links
The official site of the corporate entity

The Daily Beast describes years of behind-the-scenes antics

YouTube channel for his old TV shows

Fans know what's what with Bob's furry pals
Share this: