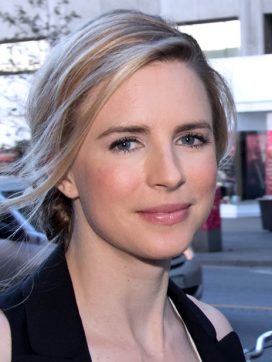 Brit Marling
is 41 years old
Best known as:
Star of the TV series 'The OA'
---
---
Brit Marling Biography
Actress Brit Marling made a splash at the Sundance Film Festival with two films in 2011, playing a cult leader in Sound of My Voice and a scientist with personal demons in Another Earth. In 2016 she co-created and starred in the series The OA.
Marling grew up in Chicago and Orlando, Florida, and studied economics at Georgetown University. While at Georgetown, she collaborated on a documentary film, 2004's Boxers and Ballerinas with that film's director, Mike Cahill (a 2001 Georgetown graduate).
Marling graduated from Georgetown University in 2005 and interned briefly as a banking analyst before setting her sights on being an actress in Los Angeles.
With Cahill she co-wrote Another Earth, and with another Georgetown alum, George Batmanglij, she co-wrote Sound of My Voice. Both films debuted at the Sundance Festival, and Another Earth took away the Alfred P. Sloan Prize for its depiction of a scientist as a main character.
With the success of The OA, Brit Marling became known as a more-brainy-than-average actress with the good looks that sometimes goes along with being a Hollywood star.
---
Something in Common with Brit Marling
4 Good Links
Profile and background on her TV show

Short article that includes video clips

Variety gushes over 'The OA'

Her filmography from the IMDB
Share this: