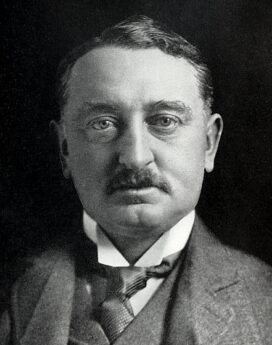 Best known as:
The English diamond magnate and South African politician
---
---
Cecil Rhodes Biography
Name at birth:
Cecil John Rhodes
Cecil Rhodes was a prime minister for South Africa's Cape Colony in the late 19th century, and one of the founders of De Beers Consolidated Mines, the company that controlled the world diamond market throughout most of the 20th century. The son of an English vicar, Rhodes's ill health as a young man provoked a trip to South Africa, where a brother had emigrated. With money from an aunt, Rhodes invested in diamond mines around 1873. For the next eight years he spent time in England, finishing studies at Oxford's Oriel College, as well as South Africa, where he proved adept at acquiring mines and territory. He became a member of the colony's parliament in 1881, and was made Prime Minister in 1890. Although Rhodes was forced to resign that post in 1896, his power and influence didn't diminish. An unabashed imperialist, he drove out Africans to make room for English settlers in an effort to extend England's global reach. He was also instrumental in getting mine owners together to form De Beers and create a lock on the diamond industry. He died of a heart attack at the age of 49, single and with no children. His will provided for an Oxford scholarship for Americans — The Rhodes Scholarship. For part of the 20th century, Rhodes was looked upon as an English hero, but these days his harsh treatment of Africans and his notions of Anglo-Saxon superiority have tarnished his reputation. Countries once named after Rhodes and protectorates of the U.K. — Northern Rhodesia and Southern Rhodesia — are now called Zambia and Zimbabwe.
---
Something in Common with Cecil Rhodes
3 Good Links
The dark tale of his colonialist ambitions

Details from his hometown in England

Nutshell version of his career
Share this: