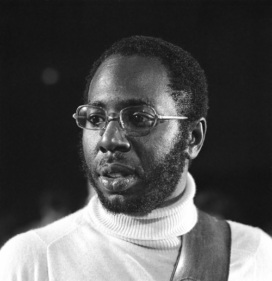 Facts about Curtis
Mayfield
Best known as:
The funky and soulful composer for the film Superfly
---
Curtis Mayfield Biography
A versatile and creative musician, Curtis Mayfield is usually remembered for performing the funky soundtrack to the 1972 blaxploitation movie Superfly. The album is considered one of R&B's landmark discs, and Mayfield became an influence on many later soul, rock, and R&B musicians. Curtis Mayfield was a composer, bandleader, and multi-instrumentalist: he played guitar, piano, saxophone, bass and drums. He dropped out of high school in the 1950s and soon enough formed The Impressions, which became a leading 1960s soul group. Mayfield lead the group until 1970, when he went solo. Mayfield was inducted into the Rock and Roll Hall of Fame twice: as an individual performer (inducted in 1999) and as the leader of The Impressions (inducted 1991).
Extra credit
Curtis Mayfield was paralyzed from the neck down in a freak onstage accident at a Brooklyn concert in 1990.
---
4 Good Links
Good career recap and albums for sale

His career is reviewed in this obituary

Biting Boston Phoenix essay from 1996

Bio and notes from Mayfield's 1999 induction
Share this: