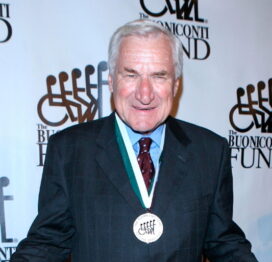 Best known as:
The basketball coach at UNC, 1961-97
---
Dean Smith Biography
Name at birth:
Dean Edwards Smith
Dean Smith coached basketball at the University of North Carolina for 36 seasons and retired in 1997 as the winningest coach in college basketball history (a record since surpassed). Smith played basketball at the University of Kansas and earned his degree in 1953. He was hired as an assistant coach at UNC in 1958, and at the age of 30 was made the head coach in 1961. His first season was his only losing season with the Tarheels, and by the time he retired, Smith had compiled a record of 879 wins and 254 losses. He was famous for his "Four Corners" offense — spreading players across the court and using patience and discipline to wear down opponents. His strategy led to the implementation of the shot clock in basketball. During his career, Smith won one NIT championship (1971), two NCAA championships (1982 and 1993), a gold medal as coach of the men's 1976 Olympic team and was inducted into the Naismith Memorial Basketball Hall of Fame (1983). He coached several future NBA players (including Michael Jordan) and mentored future coaches, and was considered one of the most influential basketball coaches in the history of the game.
---
Something in Common with Dean Smith
2 Good Links
ESPN obituary with video

From the University of North Carolina
Share this: