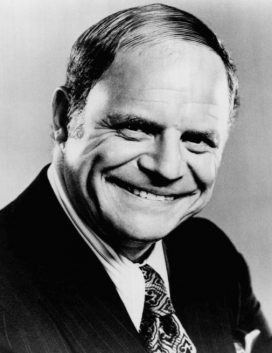 Best known as:
The insult comic who used "dummy" and "hockey puck"
---
---
Don Rickles Biography
Don Rickles was in show business for seven decades, with a successful career as a stand-up comedian who specialized in insults, his most famous epithets being "dummy" and "hockey puck."
In his later years, Rickles was known as the grumpy voice of Mr. Potato Head in the series of Toy Story movies (1995-2017).
A New Yorker and Navy veteran, Don Rickles graduated from the American Academy of Dramatic Arts, but didn't find a career on Broadway. Instead, he began the 1950s telling jokes in nightclubs.
He was in Los Angeles and in Miami, and he earned a reputation for giving sass to celebrities in the audience. His best nightclub connection ended up being as a regular jester for Frank Sinatra and Dean Martin and the rest of the Rat Pack.
He then began appearing on Johnny Carson's The Tonight Show in 1965, and his TV career took off. He became a guest host for Carson, and he appeared in dozens of  TV shows, sometimes as himself and sometimes as a guest character in sitcoms. He had brief success on TV in the late 1970s with CPO Sharkey (1976-78).
A legend in 20th century comedy, Don Rickles worked stand-up his entire career, with a trademark schtick that was based on insults to audience members and celebrities, later deemed "all in good fun." His sarcastic nickname in show business was "Mr. Warmth."
---
Related Biographies
Something in Common with Don Rickles
4 Good Links
His obituary from the L.A. Times

From his official site

Extensive videography from TV.com

Interview from 2014
Share this: