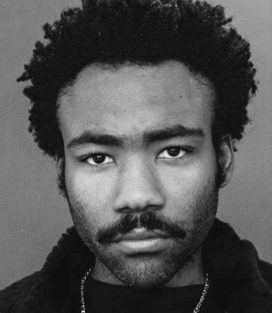 Facts about Donald
Glover
Donald Glover
is 39 years old
Best known as:
Star and creator of 'Atlanta', and rapper Childish Gambino
---
---
Donald Glover Biography
Donald Glover won Emmy awards in 2017 for directing and starring in the comedy series Atlanta. He's also a Grammy-nominated rapper who goes by the name of Childish Gambino.
He grew up in Georgia and is a 2006 graduate of the Tisch School of the Arts at New York University. His first job in entertainment was as a writer for three seasons of 30 Rock.
Glover then played nerdy Troy on the sitcom Community, while making rap recordings on his own.
By 2010, Glover had a record deal, a stand-up comedy TV special and steady work in hit sitcoms.
Since then, Glover has had film roles in Magic Mike XXL (2015), The Martian (2015, starring Matt Damon) and Spider-Man: Homecoming (2017); He's released the Childish Gambino records Camp (2011), Because the Internet (2013) and "Awaken, My Love!" (2016); and he's created and stars in the series Atlanta (2016).
Extra credit
Donald Glover is not related to actor Danny Glover.
---
Something in Common with Donald Glover
4 Good Links
Glover's Twitter feed

Videos of his stand-up comedy from Comedy Central

"Sober" video and others

Official site of his FX television series
Share this: