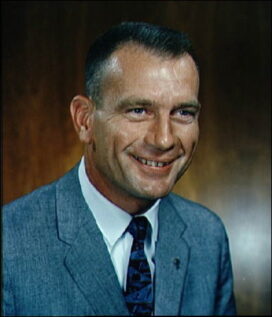 Facts about Donald
Slayton
Best known as:
The 'Original Seven' astronaut who later flew Apollo-Soyuz
---
Donald K. "Deke" Slayton Biography
Name at birth:
Donald Kent Slayton
Donald K. "Deke" Slayton was one of the original seven astronauts chosen for the National Aeronautics and Space Administration's (NASA) Project Mercury, the first program in the United States for manned space flight. As Slayton once put it, he was "the one screwed out of a mission for medical reasons." Slayton was a pilot during World War II and flew combat missions over Europe and Japan. In the 1950s he was a test pilot before being chosen as one of the first U.S. astronauts in 1959. Although he had been scheduled for one of the first orbital flights, a heart condition kept Slayton grounded for a decade. On the ground Slayton worked for NASA as a director of flight crews (he's the one who chose Neil Armstrong to be the first man on the moon) until he was cleared for space flight in 1972. His only space flight was the 1975 Apollo-Soyuz mission, the first international meeting in space (the Apollo, piloted by Slayton, hooked up to the Soviet's Soyuz). Slayton worked for NASA until 1982, when he retired and founded Space Services, one of the first companies designed to provide rockets for commercial payloads.
Extra credit
Space Services was the original contractor for the Celestis Group, the ones who sent the cremated remains of Gene Roddenberry and Timothy Leary into space in 1997… Slayton's nickname is an abbreviated form of his first initials, D.K.
---
Related Biographies
Something in Common with Donald K. "Deke" Slayton
A Good Link
Career background from NASA
Share this: