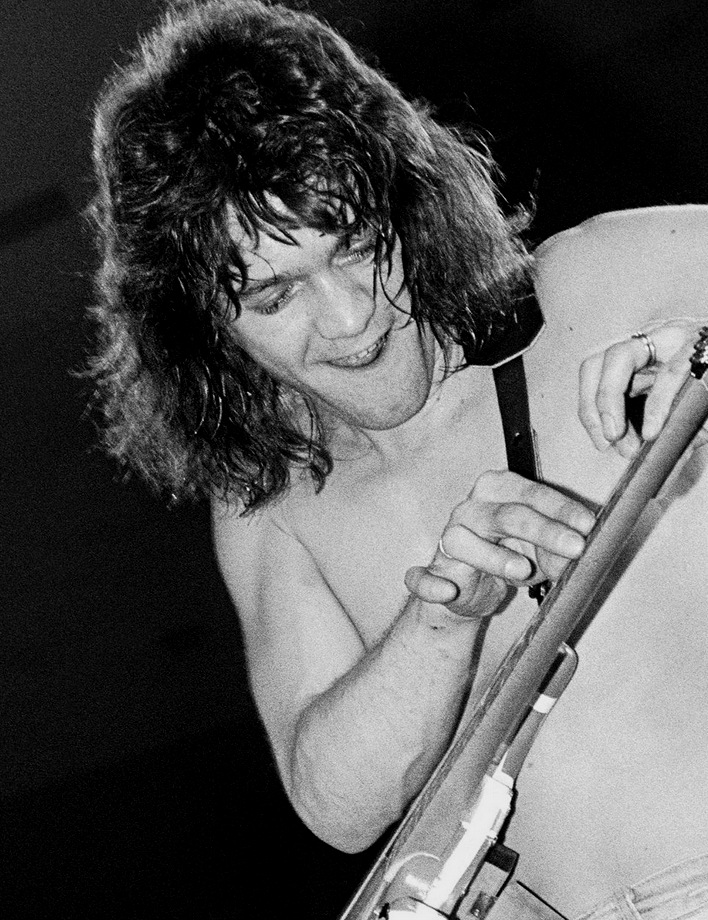 Facts about Eddie
Van Halen
Best known as:
The guitarist who led the band Van Halen
---
---
Eddie Van Halen Biography
Eddie Van Halen was a guitarist who bolted to the top ranks of rock with the band that bore his name, Van Halen, starting with their 1978 debut album.
The original band included his brother Alex on drums, Michael Anthony on bass and David Lee Roth on vocals.
The Van Halens immigrated from The Netherlands to Pasadena, California in 1967. Both Alex and Eddie studied music (their father was a musician), but Eddie ditched classical piano for guitar when he hit his teens.
They formed Van Halen in 1972-74 and spent a few years building a local audience, and in 1977 they signed with Warner Brothers.
Their debut album, Van Halen, reached #19 on the charts and sold six million copies, based on the strength of the singles "Runnin' With the Devil" and a cover of The Kinks' "You Really Got Me."
Beyond record sales, Eddie Van Halen's unique playing style — along with his own guitar modifications — captured the attention of fans and critics and he was instantly elevated to guitar god status.
The band was at the top of their game throughout the 1980s and into the 1990s, and even stayed on the charts after Roth left the band in 1985 and was replaced by guitarist and frontman Sammy Hagar (some fans refer to this incarnation of the band as "Van Hagar").
Eddie Van Halen died of cancer in 2020, his band having become one of the most successful in rock history.
Their albums include Women and Children First (1980); Diver Down (1982); 1984 (1984); 5150 (1986); OU812 (1988) For Unlawful Carnal Knowledge (1991); and A Different Kind of Truth (2012).
Their hit songs include "Panama," "Hot For Teacher" and "Jump."
---
Something in Common with Eddie Van Halen
4 Good Links
The band's official site

The news of his death, from The Guardian

1995 interview with Rolling Stone magazine

A biography from the Oral Cancer Foundation
Share this: