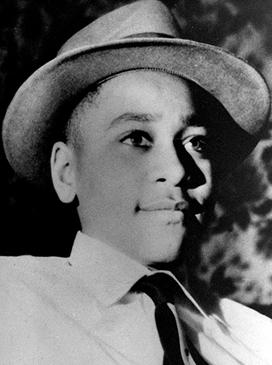 Best known as:
The Black teenager murdered in Mississippi in 1955
---
Emmett Till Biography
The brutal 1955 murder of teenager Emmett Till helped ignite the civil rights movement in America in the 1950s.
It's not clear exactly what Emmett Till, a 14-year-old Black boy, said or did to offend Carolyn Bryant, a 21-year-old white woman working a Mississippi grocery store on August 24, 1955; some say he whistled at her. This prompted Bryant's husband, store owner Roy Bryant, and his half-brother, J.W. Milam, to abduct Emmett Till from his bed on the morning of August 28th. The two white men beat Till and shot him and then threw his body in a river.
An open-casket funeral and news pictures of Emmett Till's disfigured face caused worldwide news coverage of the case. Shortly afterwards, a trial was held in Tallahatchie County, Mississippi, where Carolyn Bryant testified that Emmett Till had made an obscene comment to her and she told the court that "I was just scared to death." An all-white jury acquitted the killers after deliberating for only 67 minutes.
After the trial, Roy Bryant and Milam, now immune from further prosecution, confessed the killing to the magazine Look for a payment of about $4000. The case was reopened 50 years later and Emmett Till's body was exhumed for an autopsy, but the FBI announced in 2006 that it would not file federal charges and a grand jury refused to indict in 2007.
Extra credit
Emmett Till's mother, Mamie Till-Mobley, died in 2003 at age 81, still holding out hope for a rehearing of the case. Her book, Death of Innocence: The Story of the Hate Crime that Changed America, was published by Random House that year… When the grand jury considered the case in 2006, Carolyn Bryant was the one surviving party of interest. In 2017, author Timothy Tyson (in his book The Blood of Emmett Till), revealed that Carolyn Bryant had confessed that she lied when she said Emmett Till had made advances toward her, saying "That part's not true"… Though the two incidents were not directly connected, Rosa Parks's refusal to move from her seat in a Montgomery, Alabama bus happened on December 1, 1955, four months after Till's death.
---
Related Biography
Something in Common with Emmett Till
4 Good Links
Fine starting point with many details, from the PBS show American Experience

Text, video and some good links from NPR

2017 Vanity Fair report, with Bryant admitting she made things up

Smithsonian.com interviews Till's cousin about the night of the murder
Share this: