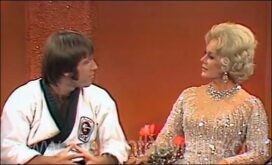 Best known as:
Star of the TV sitcom Green Acres
---
---
Eva Gabor Biography
Eva Gabor played the lovably silly Lisa Douglas on Green Acres, a 1965-70 sitcom about city sophisticates who move to the country.
Eva Gabor and her sisters Zsa Zsa and Magda were a popular trio of celebrity beauties in their day, with Zsa Zsa and Eva being nearly interchangeable: blondes in furs with Hungarian accents. They were also alike in multiple marriages: Eva Gabor was married five times, while Zsa Zsa was married a whopping nine times.
Eva Gabor had a scattershot career in Hollywood movies; her best-known role was probably the high-strung Paris beauty Liane d'Exelmans in the 1958 musical Gigi. Eva Gabor also appeared on Broadway, notably in the 1950 hit The Happy Time.
Extra credit
Eva Gabor did voices for the Disney animated films The Aristocats (1970) and The Rescuers (1977)… Her husband on Green Acres was played by Eddie Albert.
---
Related Biographies
Something in Common with Eva Gabor
4 Good Links
Simple, respectful fan site with a bio and photos

Tombstone photo, career recap and marriages run-down

Elaborate fan page with tons of info

Just a few quick facts and photos
Share this: