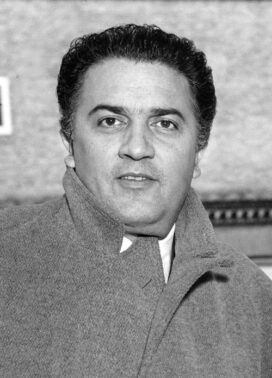 Facts about Federico
Fellini
Best known as:
The Italian director of La Dolce Vita and 8 1/2
---
---
Federico Fellini Biography
Between the 1950s and the 1970s Italian filmmaker Federico Fellini made his reputation as one of the 20th century's most influential movie directors, and his relationship with Hollywood — he won the Oscar for best foreign film four times — advanced the American appetite for international films. He began his career in post-World War II Rome, moving from cartoonist and journalist to screenwriter and assistant director in the mid-1940s. His successful collaborations with Roberto Rossellini (including 1945's Open City) advanced him in the film business, and by the early 1950s he was writing and directing his own movies. During his first decade as a director he won Oscars for La Strada (1954), Le Notti di Cabiria (1957) and 8 1/2 (1963). He won a fourth for Amarcord (1974), and in 1992 Fellini was given a special Oscar for lifetime achievement. Like Orson Welles, Fellini loved to play the Great Film Director, both on screen and off. His individualistic films were often plotless flights of fancy, populated by bizarre, circus-like troupes and exotic women. Many of his films starred his wife, Giulietta Masina (they married in 1943), and Fellini himself would pop up on screen every now and then, part of his semi-autobiographical approach to filmmaking. Undeniably influential, he's also the kind of enigmatic filmmaker whose supporters call him a misunderstood genius, while his detractors call him a shallow poseur. His other films include I Vitelloni (1953), La Dolce Vita (1960), Juliet of the Spirits (1965) and Fellini Satyricon (1969).
---
Related Biography
Something in Common with Federico Fellini
A Good Link
Stories about and related to him, from the New York Times
Share this: