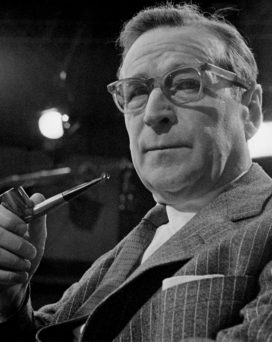 Facts about Georges
Simenon
Best known as:
Prolific author of the Detective Maigret novels
---
---
Georges Simenon Biography
Name at birth:
Georges Joseph Christian Simenon
Belgian writer Georges Simenon published hundreds of novels during a career that lasted more than six decades, his most famous books being mystery novels featuring detective Jules Maigret.
Simenon began as a crime reporter, then began publishing pulp novels under a variety of pseudonyms. He published under his own name for the first time in 1931 (The Case of Peter the Lett).
Simenon lived in Belgium and in Paris, and wrote spare stories of average people being thrown off track by crimes and mishaps.
He wrote nearly 80 novels with detective Maigret (a pipe-puffing, laconic inspector with keen intuition), as well as scores of psychological novels; he had popular appeal as well as literary prestige, and his novels were translated and sold worldwide (Simenon wrote in French).
Besides the Maigret novels, his other books include The Stain on the Snow (1948), The Little Saint (1961) and The Innocents (1972).
There have been more than 30 films adapted from Simenon's novels, including at least 15 with the character Jules Maigret.
---
Something in Common with Georges Simenon
3 Good Links
Fan forum for his famous detective

Archived obituary from the NYT

Other writers recall his greatness
Share this: