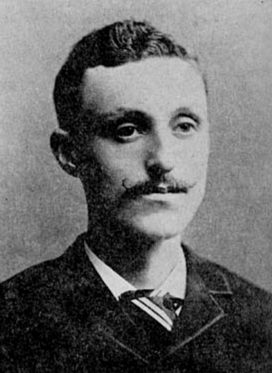 Facts about Gilbert
Patten
Best known as:
The writer of the Frank Merriwell dime novels in the early 20th century
---
---
Gilbert Patten Biography
Name at birth:
George William Patten
Gilbert Patten appears on lists of top selling authors because of his dime novels of the early 20th century — he wrote one each week for 17 years, under the name Burt L. Standish.
Nearly all of them featured the character Frank Merriwell, an idealized version of what a Good American Boy should be.
Patten grew up in Maine and set out on his own as a teenager, getting work as a reporter in 1883. By his mid-20s he was making money writing short pieces for various periodicals.
Street & Smith Publishing hired Patten in 1896 to write short novels for Tip Top Weekly. He wrote a 20,000 word book every week for 17 years, with just a couple of breaks.
Frank Merriwell, the protagonist of most of Patten's work, was the guy everyone wanted to be like: a great athlete, a good pal, a smart guy — but not an egghead! — with a halo of virtue that made the girls swoon.
Frank Merriwell stories were hugely popular until around World War I, but Patten was paid a modest salary all those years.
In the 1930s a copyright-free Frank Merriwell had a revival as a comic strip and a radio show, but without Patten's involvement.
After living in Brooklyn for most of his career, Patten moved to California late in life and died there in 1945, broke and unknown.
---
Something in Common with Gilbert Patten
4 Good Links
Brief description from Lehigh University

Author Ryan Anderson explains those stories

Despite the misleading title, a good source for biographical info

Bio from Northern Illinois University Libraries
Share this: