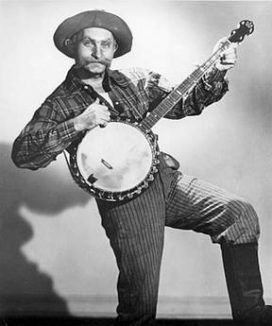 Facts about Grandpa
Jones
Best known as:
Co-star of the show Hee Haw
---
---
Grandpa Jones Biography
Name at birth:
Louis Marshall Jones
Grandpa Jones was the folksy, joking banjo-picker inducted into the Country Music Hall of Fame in 1978.
Louis Marshall Jones was born in rural Kentucky and began playing on the radio while growing up in Akron, Ohio. From there he moved into the showbiz circuit full-time; he was only 22 when he adopted his spry "Grandpa Jones" persona of brushy moustache, glasses and suspenders. His specialty was folksy "real country" music, mixed with gentle countrified humor. Over the years his hits included "Mountain Dew" (1947) and "T for Texas" (1963).
Grandpa Jones became a regular at the Grand Ole Opry in Nashville, Tennessee, where he first performed in 1946. Beginning in 1969 he found a wider audience as a regular on the TV series Hee Haw, where his countrified act and corn-pone humor was a natural. Jones continued playing the Grand Ole Opry until a month before his death; his final stroke came after a performance there.
He published an autobiography, Everybody's Grandpa, in 1984.
---
Something in Common with Grandpa Jones
4 Good Links
His profile from the Country Music Hall of Fame

Reprinted obituaries that sum up his career

His (brief) obituary from Country Music Television

With a full discography and other notes
Share this: