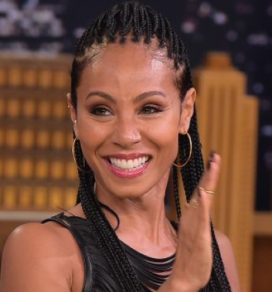 Jada Pinkett Smith
is 51 years old
Best known as:
Niobe in 'The Matrix' sequels
---
---
Jada Pinkett Smith Biography
Name at birth:
Jada Korsen Pinkett
Jada Pinkett Smith has been on the big screen since the 1990s, but she's best known for her role as Niobe in the sequels The Matrix Reloaded (2003) and Matrix Revolutions (2003).
She married actor Will Smith in 1997. They have two children together, entertainers Jaden Smith and Willow Smith.
A native of Baltimore, she studied at the Baltimore School for the Arts, where she befriended Tupac Shakur in the late 1980s.
Pinkett began getting TV and film roles in the 1990s, including Menace 2 Society (1993), Set It Off (1996) and The Nutty Professor (1996, starring Eddie Murphy and Eddie Murphy).
Since then she's been a busy supporting player and occasional lead of the smart-and-sexy variety. Pinkett Smith's other films include Bamboozled (2000), Collateral (2004), Madagascar (2005), Bad Moms (2016) and Girls Trip (2017).
---
Something in Common with Jada Pinkett Smith
4 Good Links
Her official site

Video/Radio interview from 2017, mature language

Archive from Baltimore Fishbowl

Stories from Variety
Share this: