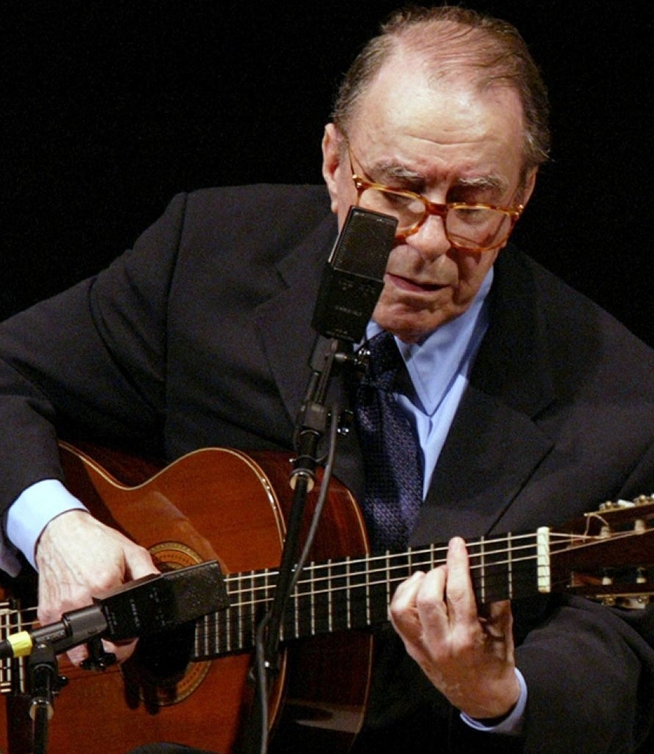 Facts about João
Gilberto
---
---
João Gilberto Biography
João Gilberto was a Brazilian guitarist who popularized the bossa nova sound in the 1960s and did "The Girl From Ipanema," from the 1964 album Getz/Gilberto with Stan Getz).
From rural Brazil, he picked up the guitar as a teenager and never looked back, quickly earning a reputation as a performer with a new style.
Amplification and recording technology, combined with Gilberto's rigorous standards for audio quality, transformed his guitar's sound into a more subtle and intimate sound for Brazilian music.
Influenced by cool jazz from America, Gilberto and his collaborator, composer Antonio Carlos Jobim, developed a bossa nova sound that made them world famous in the early 1960s (Jackie Kennedy invited them to the White House in 1962).
Saxophonist Stan Getz and Gilberto collaborated in 1963-64, and the result was an album that stayed on the top 40 charts for nearly a year. It won three Grammys and included "The Girl From Ipanema," a song so overplayed it became a parody of lounge music despite its greatness. (The song, written by Jobim and Vinicius du Moreas, was originally in Portuguese and titled "Garota de Ipanema." English lyrics were added for the Getz-Gilberto recording, and sung by Gilberto's wife at the time, Astrid.)
The album also included ""Desafinado," a major bossa nova hit now considered a standard and Gilberto's signature song.
Gilberto had a long career and was considered one of Brazil's most important musicians and recording artists, his soft singing voice a familiar friend at home and abroad.
He was also known to be a little eccentric and sometimes prickly as a performer, particular about sound equipment and not shy about interrupting concerts.
---
Something in Common with João Gilberto
4 Good Links
His 2019 obituary

His signature song, which you'll probably recognize

2003 wince-worthy piece about his famous concert fail

A take on the bossa nova craze that puts it in perspective
Share this: