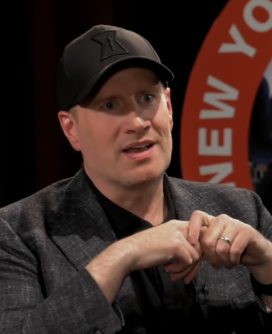 Kevin Feige
is 50 years old
Best known as:
The head of Marvel Studios since 2007
---
Kevin Feige Biography
Kevin Feige is the president of Marvel Studios and the Chief Creative Officer for Marvel Comics, Marvel Television and Marvel Animation.
Born in Boston and raised in New Jersey, he got into the movie business by way of film school at the University of Southern California.
While there, Feige interned and then worked for the filmmaking team of director Richard Donner and producer Lauren Shuler Donner. He spent the 1990s learning how to make movies.
Feige was hired as a producer on Donner's first X-Men film (2000), then was hired by Marvel Studios, where he went on to produce more movies, including Spider-man (2002, directed by Sam Raimi), Fantastic Four (2005) and X-Men: The Last Stand (2006).
Feige has been president of Marvel Studios since 2007, and in 2019 was given even more creative control as Chief Creative Officer.
Beginning with Iron Man (2008, starring Robert Downey, Jr.), Feige and Marvel (acquired by Disney in 2009) have made some of the biggest box office hits in history, led by Avengers: Infinity War (2018) and Avengers: Endgame (2019).
He was nominated for an Oscar when 2018's Black Panther was nominated as best motion picture of the year.
For TV, Feige has produced WandaVision (2021), The Falcon and the Winter Soldier (2021) and Loki (2012).
---
Something in Common with Kevin Feige
4 Good Links
Not too many tweets here

Glowing Vanity Fair profile from 2017

Q&A video with the New York Film Academy

Official site, in case you missed their ads
Share this: