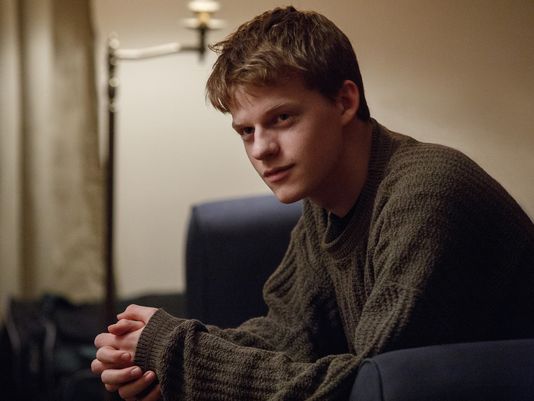 Lucas Hedges
is 26 years old
Best known as:
The Oscar-nominated co-star of the 2016 film 'Manchester by the Sea'
---
---
Lucas Hedges Biography
Actor Lucas Hedges was Oscar-nominated for his supporting role as an unhappy New England teen in the 2016 movie Manchester by the Sea.
Lucas Hedges was born into the entertainment business: his father, Peter Hedges, wrote the novel What's Eating Gilbert Grape and was Oscar-nominated for his screenplay for the 2002 Hugh Grant romantic drama About a Boy.  His mother is the actress Susan Bruce Titman.
Lucas Hedges attended the private St. Anne's School in Brooklyn Heights and then moved on to the North Carolina School of the Arts. But his time in school has been consistently interrupted by feature film roles, including small parts in three 2014 films: the suspense thriller Labor Day, the drug drama Kill the Messenger  and the Wes Anderson quirkfest The Grand Budapest Hotel. He also took to the stage, starring in the off-Broadway production Yen in 2017.
His big breakthrough was Manchester by the Sea. The 2016 film, about an unhappy Boston loner who moves back to a Massachusetts fishing town to become the guardian of his orphaned nephew, co-starred Casey Affleck and Michelle Williams. The film earned Oscar nominations for all three.
Since then, Hedges has turned in solid performances in critically acclaimed films such as Greta Gerwig's Lady Bird (2017), Three Billboards Outside Ebbing, Missouri (2017, starring Frances McDormand), Jonah Hill's Mid90s (2018), Boy Erased (2018, starring Nicole Kidman) and Honey Boy (2019, starring Shia LaBeouf).
---
Related Biographies
Something in Common with Lucas Hedges
4 Good Links
2016 profile from 'The Hollywood Reporter'

2016 backgrounder from The Huffington Post

The IMDB lists all his TV and film roles

Reviews galore of his breakthrough 2016 film
Share this: