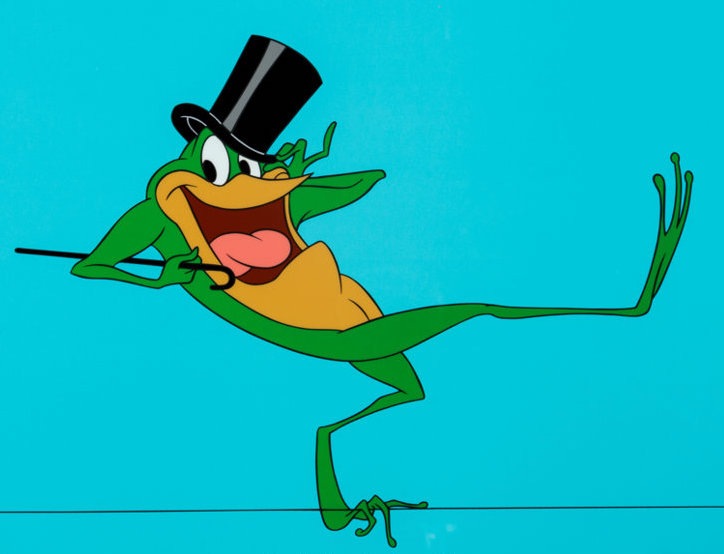 Facts about Michigan
Frog
Best known as:
The wacky singing frog from Warner Brothers cartoons
---
Michigan J. Frog Biography
Michigan J. Frog is a one-hit wonder of the Warner Brothers cartoon stable. His turn in the 1955 Warner cartoon One Froggy Evening (directed by Chuck Jones) later made him a beloved offbeat sub-star of the animation universe.
In One Froggy Evening, Michigan J. Frog is a singing, dancing, tophat-wearing frog who confounds a construction worker who discovers the amphibian in a time capsule and tries to get rich off the discovery. (The cartoon was loosely based on Old Rip, a toad found in a time capsule in 1928). In the 1990s, the WB television network brought Michigan J. Frog back as the network's official mascot.
Extra credit
Michigan J. Frog's signature song is "Hello, Ma Baby!", a real old-time song written by Joseph Howard and Ida Emerson in 1899. The lyrics sung by Michigan J. Frog are:
"Hello my baby, hello my honey,
Hello my ragtime gal.
Send me a kiss by wire,
Baby my heart's on fire.
If you refuse me, honey, you'll lose me,
Then you'll be left alone.
Oh baby, telephone
And tell me I'm your own."
---
Related Biographies
Something in Common with Michigan J. Frog
4 Good Links
The story of his first appearance in the semi-famous 1950s cartoon

Odd tale of the "real life" inspiration for MJF

A few quick images from a fan of frogs

Not about Michigan J. Frog in particular, but a fine fan page for all the Warner Brothers cartoons
Share this: