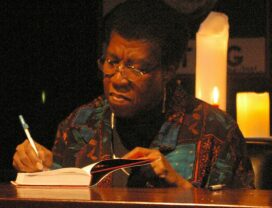 Facts about Octavia
Butler
Best known as:
The African-American feminist science fiction author who won a MacArthur "genius" grant
---
---
Octavia Butler Biography
Octavia Butler grew up in California and started writing science fiction stories when she was a young girl. She began getting published in the 1970s, then won a Hugo award for her short story, "Speech Sounds" in 1983. A year later Butler won both the Hugo and Nebula awards for her novella "Bloodchild." Her novels include Parable of the Sower, Parable of the Talents and Fledgling. In 1995 she was recognized with a MacArthur Foundation Fellowship — more commonly known as a "genius grant" — for her writing skills and career.
---
Something in Common with Octavia Butler