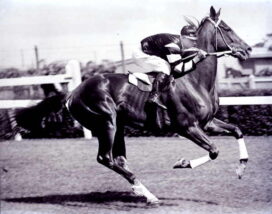 Best known as:
Legendary Australian racing champion of the 1930s
---
Phar Lap Biography
Decades after his death, Phar Lap remains Australia's most famous racehorse: an ungainly chestnut gelding whose great stamina helped him win 37 of his 51 races between 1929 and 1932. Phar Lap was born in New Zealand and purchased for the bargain price of 160 pounds by trainer Harry Telford and American owner David Davis in 1927. The horse repaid them by winning over 66,000 pounds in purse money during his career. Phar Lap was the favorite in the prestigious Melbourne Cup race three times, winning in 1930 and becoming a national hero in the process. After the 1931 Cup he was shipped to America to face new competition for bigger stakes. He won his first race, at Agua Calienti in Mexico, but never raced again: in April of 1932 he died suddenly at a ranch in California. An autopsy indicated gastric trouble, but the precise cause has never been perfectly clear; many Australians believed the rumor that Phar Lap had been poisoned by enemies in the American racing industry. A scientific study in 2008 indicated that Phar Lap had indeed died of arsenic poison, though it was unclear whether the overdose had been malicious or accidental. After Phar Lap's death, his heart was found to weigh 6.2 kilograms (about 14 pounds) — roughly 50% larger than a typical racehorse's heart. The champion's hide was stuffed and returned to the National Museum in Melbourne, where he has remained a popular exhibit for decades.
Extra credit
Phar Lap's name was derived from the Thai word for lightning… His story was made into a 1983 movie, Phar Lap, starring actors Martin Vaughan as Harry Telford and Tom Burlinson as his groom (or "strapper") Tommy Woodcock… Phar Lap film director Simon Wincer later made Free Willy, the 1993 film which starred Keiko the Whale… Phar Lap, a 2001 book by Peter Thompson and Geoff Armstrong, proposed that Phar Lap was not poisoned but rather died of a disease known as duodenitis-proximal jejunitis, also known as proximal enteritis… Phar Lap's bright chestnut color led to the nickname "Big Red" — a name also given to 1973 Kentucky Derby winner Secretariat.
---
Related Biographies
Something in Common with Phar Lap
4 Good Links
Terrific exhibit from his home in Australia

Biographical profile from Australia's International Museum

2008 report that puts the blame on poison

Review of a 2001 book, also speculating on the horse's death
Share this: