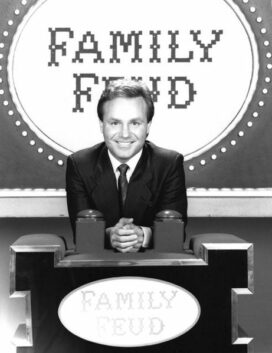 Best known as:
The Family Feud host who committed suicide
---
---
Ray Combs Biography
Ray Combs hosted the game show Family Feud for six years, replacing original host Richard Dawson in 1988 and in turn being replaced by Dawson, who returned to the show in 1994.
Ray Combs was a comedian and guest-starred in a few 1980s TV shows before he was hired for his gig at Family Feud in 1988. After Dawson's return, Combs hosted an unrelated show, Family Challenge, from 1995-96.
Combs's life ended in tragedy in 1996. Apparently distraught over marital and financial problems, Combs was admitted to the psychiatric ward of the Glendale (Calif.) Adventist Medical Center. There he used bedsheets to hang himself in a closet.
Extra credit
Ray Combs and his wife Debbie were married from 1977 until his death. According to the Internet Movie DataBase, they had six children: Raymond Neil Combs III (born 1978), Kelly Jo (b. 1980), Whitney (b. 1983), Chelsy (b. 1987), Kirby (b. 1988) and Cody (b. 1991).
---
Related Biography
Something in Common with Ray Combs
2 Good Links
With photos and a few notes on his career

A complete rundown on Combs's TV and (brief) movie credits
Share this: