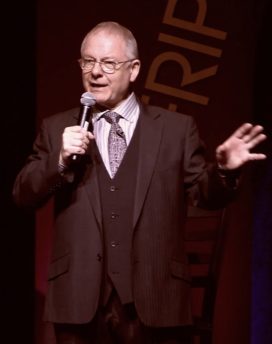 ---
---
Robert Fripp Biography
Robert Fripp was a co-founder and guitarist of the band King Crimson, whose 1969 debut album In the Court of the Crimson King is a classic of the progressive-rock genre.
Fripp studied guitar from the age of 11, especially influenced by jazz and the compositions of Bela Bartok. Fripp started playing guitar in rock bands as a teen, then eventually helped found King Crimson in 1967.
Through 2010 they recorded sporadically, with Fripp being the only constant in a rotating set of band members.
Fripp's solo work became known for his experiments with layers and loops, dubbed "frippertronics," which gave him a distinct sound and a reputation as an avant-garde rock guitarist. His unique style and unusual time signatures have put him on several "best guitarists" lists over the years.
During the 1970s and '80s Fripp recorded with Brian Eno, Peter Gabriel, Daryl Hall, David Bowie, The Roches, David Byrne, and  Andy Summers (of The Police).
During the pandemic of 2020 Fripp gained a new following, thanks to the YouTube channel belonging to his wife, Toyah Willcox. Together they performed weekly renditions of rock songs such as "Rebel Yell," "Toxic" and "Anarchy in the U.K."
---
Related Biographies
Something in Common with Robert Fripp
3 Good Links
Not every day, but entertaining nonetheless

His wife's YouTube channel, where they perform together

Promotional site for Fripp as a speaker, courtesy of his sister
Share this: