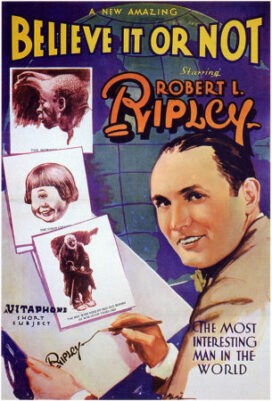 Facts about Robert
Ripley
Best known as:
Founder of Ripley's Believe It Or Not!
---
Robert L. Ripley Biography
Name at birth:
LeRoy Ripley
Robert L. Ripley's Believe It Or Not! cartoon panel was a staple of American newspapers in the first half of the 20th century. The cartoon featured true-life oddities from around the globe, always with the tag line "Believe It… Or Not!" Ripley's first such cartoon appeared in the New York Globe in 1918. As his readership grew Ripley began travelling abroad to find tidbits for his cartoon; he became famous as a globe-trotting adventurer, eventually claiming visits to 198 different countries. The cartoon's success spawned radio and TV shows, books and museums which continued into the 21st century.
---
Something in Common with Robert L. Ripley
2 Good Links
Small site (but good samples) from the cartoon's current syndicator, United Media

A fond but skeptical look at his career, especially in broadcasting
Share this: