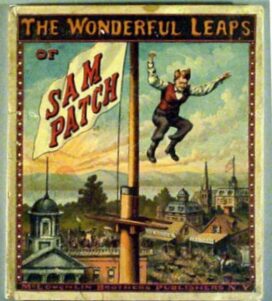 Best known as:
The daredevil who jumped off Niagara Falls in 1829
---
Sam Patch Biography
In September of 1827, Sam Patch jumped 70 feet from the top of Passaic Falls in New Jersey, just for the fun of it. Sam Patch became a local celebrity and began a brief career of jumping off things to please onlookers.
Nicknamed "The Yankee Leaper," Sam Patch took a 120 foot plunge over Niagara Falls in October of 1829 and lived, becoming the first person ever to do so. On 6 November 1829 he jumped 100 feet from the Upper Falls of the Genesee in Rochester, New York, accompanied by a pet bear. A week later, on Friday the 13th, Patch made the jump again, this time without the bear, and didn't survive. His body was not found immediately, fueling speculation that he had somehow pulled a fast one. Not quite: four months later his corpse was found in the Genesee River.
Extra credit
Sam Patch's famous catchphrase was "Some things can be done as well as others"… A 2003 book about Sam Patch by Paul Johnson was titled Sam Patch, the Famous Jumper… According to Findagrave.com, Sam Patch's grave "was marked by a wooden plank marked 'Sam Patch – Such is Life,' which soon disappeared and his grave remained unmarked until a group of students at Charlotte High School raised the funds to erect a proper monument in the mid-20th century."
---
Something in Common with Sam Patch
2 Good Links
A brief biography from a history of Rochester

Nice report on Prof. Paul Johnson's 2003 book about Patch
Share this: