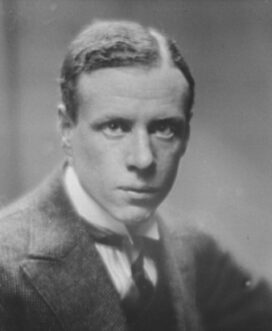 Facts about Sinclair
Lewis
Best known as:
The author of Babbitt and Elmer Gantry
---
---
Sinclair Lewis Biography
Name at birth:
Harry Sinclair Lewis
Novelist Sinclair Lewis was the first writer from the United States to win the Nobel Prize in literature, on the strength of his novels satirizing the hypocrisy and small-mindedness of Middle America. His five bestsellers from the 1920s were Main Street (1920), Babbitt (1922), Arrowsmith (1925), Elmer Gantry (1927) and Dodsworth (1929). Lewis grew up in a small town in Minnesota — the fodder for much of Main Street — and graduated from Yale University in 1908. For years "Red" Lewis traveled around, scratching out a living by writing short pieces and poems, followed by a few not-so-successful novels. Main Street, a more literary effort, made Lewis rich and famous, and he became one of the most celebrated authors of the 1920s. After winning the Nobel, he continued to publish novels and stayed in the public limelight as a vigorous opponent of injustice in general, but also as a sometimes prickly critic of just about everything and everyone, a trait his contemporaries have attributed to too much alcohol. His other novels include It Can't Happen Here (1935), Cass Timberlane (1945) and The God-Seeker (1949).
Extra credit
Sinclair Lewis's second wife was Dorothy Thompson, a famous foreign correspondent, columnist and radio broadcaster of the era. They were married from 1928 to 1942… All five of his novels from the 1920s were made into movies: Main Street (1923), Babbitt (1924 and 1934), Arrowsmith (1931, directed by John Ford and nominated for four Oscars, including best picture), Dodsworth (1936, directed by William Wyler and nominated for seven Oscars, including best picture) and Elmer Gantry (1960, nominated for five Oscars, with wins for actors Burt Lancaster and Shirley Jones).
---
Something in Common with Sinclair Lewis
4 Good Links
Biogaphy from PBS

Background and related links

Books & Writers biography

His profile and photos from Find-A-Grave
Share this: