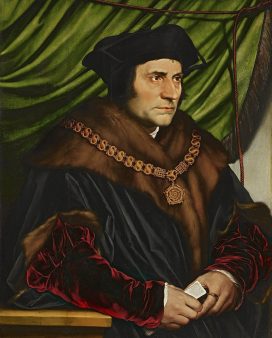 Best known as:
The author of Utopia
---
---
Sir Thomas More Biography
Sir Thomas More was called "a man for all seasons," a nickname reflecting his multi-talented life as an author, humanist, statesman and (finally) martyred Catholic saint.
More attended Oxford from 1491-93, and then studied law at Lincoln's Inn before being called the bar about 1501. He mingled with philosophers like Erasmus, taught and practiced law, and was elected to Parliament in 1504. He was knighted in 1521 and by 1523 was Speaker of the House of Commons and an important counselor to King Henry VIII. In 1529, Henry made him Lord Chancellor of England.
But today, Thomas More is best remembered for clashing with Henry VIII when he refused to acknowledge the king's supremacy over the church. More resigned his position as Lord Chancellor in 1532. At the king's behest, More was finally imprisoned in 1534 and beheaded in 1535. The silver lining for More came four centuries later: he was canonized in 1935 by Pope Pius XI, becoming Saint Thomas More.
Sir Thomas More is also known as the author of the book Utopia (1516), which describes a fictional country in which crime and poverty don't exist, possessions are shared, and humanistic ideals prevail. More coined the term Utopia (from the Greek "no place"), and it is now used to mean any fictional place of idealized perfection.
Extra credit
Sir Thomas More married the former Jane Colt in 1505. They had four children: Margaret, Elizabeth, Cicely, and John. After Jane's death in 1511, Thomas More was remarried that same year to a wealthy widow, Alice Harpur Middleton. She and More had no children together… Thomas More's daughter Margaret More, married name Margaret Roper, became a widely-known writer, unusual for a woman in that era… The 1966 movie A Man For All Seasons, based on Robert Bolt's play, won six Oscars including the best actor award for Paul Scofield… Sir Thomas More was played by Jeremy Northam in the popular TV series The Tudors (2007-10)… Pope John Paul II upped Saint Thomas More's standing in 2000, naming him the "heavenly Patron of Statesmen and Politicians."
---
Related Biographies
Something in Common with Sir Thomas More
4 Good Links
Enthusiastic detail, with More quotes, a chronology and much more

Good links to bios and related information, with strong Catholic leanings

Biography, collection of works and some essays on More

Sure, it's for cheaters, but still great coverage of the 1966 movie
Share this: