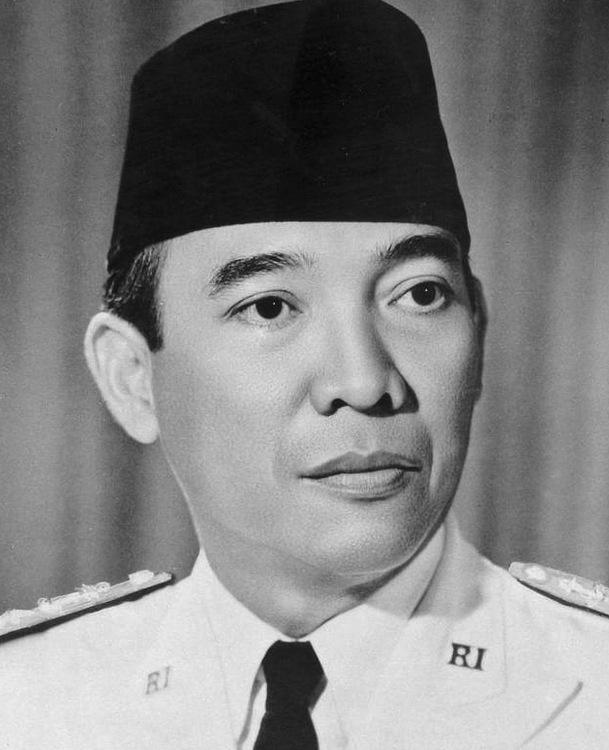 Facts about Sukarno
Best known as:
President of Indonesia, 1945-67
---
---
Sukarno Biography
Name at birth:
Kusno Sosrodihardjo
First president of the Republic of Indonesia, 1945-67
A fervid nationalist with a gift for public speaking, Sukarno became the first president of the newly independent Republic of Indonesia in 1945.
Sukarno navigated the perils of the Cold War and the U.S. battle against communism until his presidency ended in 1967.
With a Western education and trained in architecture, Sukarno got involved in the movement for independence from Dutch colonialists in the 1920s.
By the end of the decade he was under the watchful eye of Dutch authorities. Sukarno was jailed, put under house arrest and even exiled until he was ultimately freed by the invading Japanese army in 1942.
Sukarno worked with the Japanese to oust the Dutch and he became the nation's first president. Then World War II ended in 1945 and the Japanese lost.
The British victors brought back the Dutch, and Sukarno's Indonesian forces spent years fighting Dutch and British forces.
Sukarno was an autocrat who loved the spotlight, and Indonesia had the world's third largest communist party.  Sukarno was therefore a player on the world's political stage, with visits to Moscow, Beijing and Washington, D.C. during the Cold War era of the 1950s and '60s.
The popular Sukarno was able to balance many political and cultural factions, but his country's economic condition worsened and his presidential powers and influence diminished in the mid-1960s.
In part Sukarno lost power because the U.S. was secretly backing his military successor, Major General Suharto, who took over in 1967.
It was nearly five decades before it was revealed that the United States was actively involved in Sukarno's ouster.
---
Related Biographies
Something in Common with Sukarno
4 Good Links
Good details in this bio

Timeline of Indonesian history, 1950-65

Political history covering Sukarno's career

Author William Blum tells of CIA shenanigans in Sukarno's era
Share this: