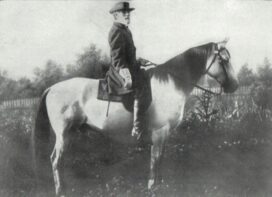 Facts about Traveller
Best known as:
Robert E. Lee's celebrated horse
---
Traveller Biography
Traveller was the faithful steed of Confederate general Robert E. Lee during much of the American Civil War. Lee purchased him in 1861 and the grey stallion became a familiar sight to Confederate troops serving under Lee's command. After the war the horse remained with Lee and outlived the general; after Traveller's death he was buried near Lee's tomb on the campus of Washington and Lee University.
---
Related Biography
Something in Common with Traveller
4 Good Links
A nice little bio of the horse, plus a photo of Lee aboard Traveller

Historical tidbits reprinted from an 1886 edition of the Richmond Dispatch

Brief description with photo

Poetry in the grand fashion, celebrating the "dappled gray"
Share this: