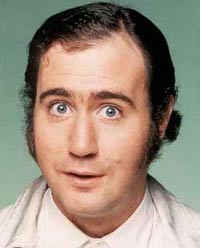 Best known as:
The 1970s weirdo comedian extraordinaire
---
---
Andy Kaufman Biography
Andy Kaufman appeared on the inaugural broadcast of Saturday Night Live in 1975, and soon became nationally famous as a comedian who provoked nervous laughter, if any at all. His concert and comedy appearances varied: he impersonated Elvis Presley, read aloud from The Great Gatsby until the audience left in disgust, or touted himself as an "Intergender Wrestling Champion," fighting mostly women in what were seemingly real matches. He also co-starred as the quirky (well, nutso) mechanic Latka Gravas in the hit TV series Taxi from 1978-83. It was hard to tell when Kaufman was kidding, and even the news of his unexpected death from lung cancer in 1984 was met with some skepticism, as if it might possibly be his latest gag. In the years since, Kaufman has come to be regarded as a pioneer of absurdist, blending-reality-and-confusion comedy.
Extra credit
Andy Kaufman was played by comedian Jim Carrey in the 1999 film Man In the Moon.
---
Related Biographies
Something in Common with Andy Kaufman
A Good Link
With a brief biography, from the Internet Movie Database
Share this: