We have a new Betty White biography on Who2, with photos.
The other day I bought a comic book, another in the Blue Water Comics series Female Force.
Blue Water has an extensive series of these bio-comics (biographix?), and I've already read one on First Lady Michelle Obama and one on the former Alaskan governor, Sarah Palin.
This time I decided to go out of my "safe zone" and get one that isn't political.
I bought Female Force: Betty White.
The day I bought the thing was January 17th, Betty White's 89th birthday. I didn't know that at the time.
I also didn't know that this particular Female Force issue sold out in the first day.
The profits from the comic, apparently, are going to Betty White's favorite charity, the Greater Los Angeles Zoo Association (GLAZA).
Here's "Cover B" of Female Force: Betty White, by Juan Mar Studios: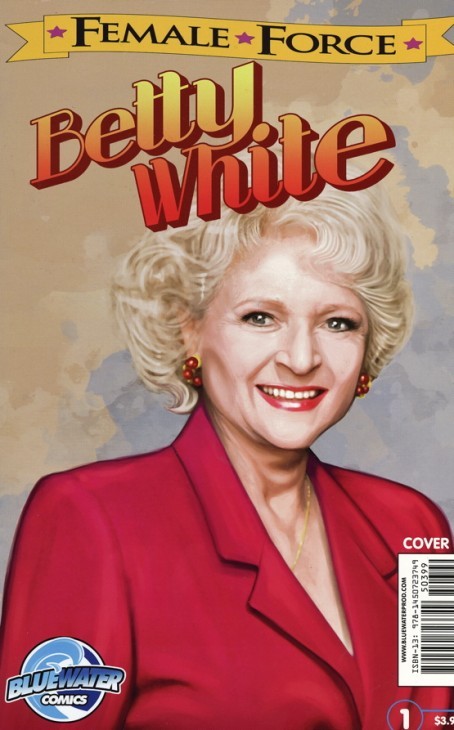 It's a straight-ahead tale of her career, with an emphasis on her love of animals and her marriage to the late Allen Ludden, the host of TV's Password. The comic bio has much more of an authorized feel than the Female Force issues dedicated to Sarah Palin and Michelle Obama.
And, even though Betty White has had her differences with PETA, the comic book is heavy with PETA ads.
Here's an ad from the middle of the comic, featuring PETA's latest friend, Lea Michele, one of the stars of the hit TV series Glee (she plays Rachel Berry).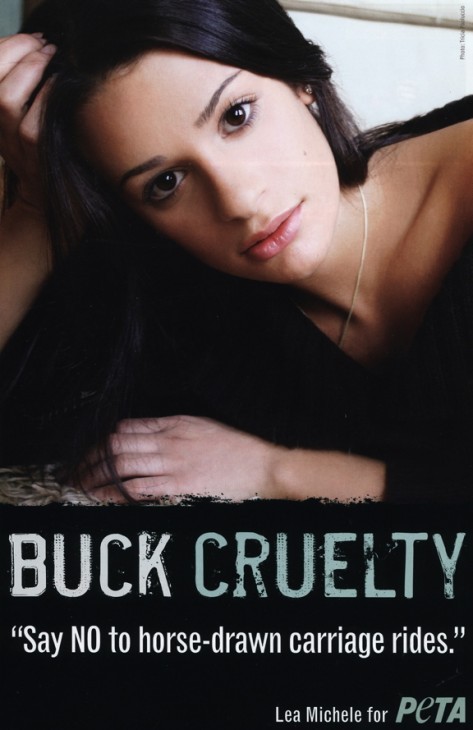 And here's the back cover of the comic book, which features Betty White's seemingly bitter and certainly no-longer-alive co-star, Bea Arthur (from The Golden Girls):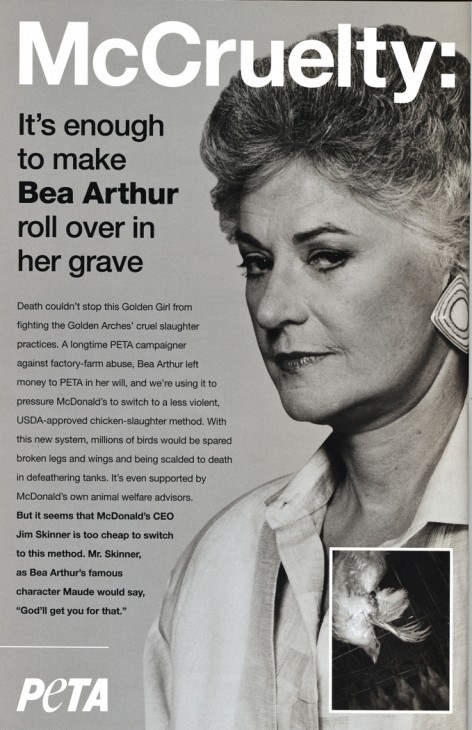 Happy (belated) birthday to you, Betty White! You share a birthday with quite a crew, including Andy Kaufman, Kid Rock, Michelle Obama (yeah, I mentioned her earlier, isn't that weird?), Jim Carrey (which, that's also kind of weird, since he once played Andy Kaufman in a movie) and Benjamin Franklin (and that's three-times doubly weird, given that Ben Franklin was Betty White's first husband — hey, kidding!).