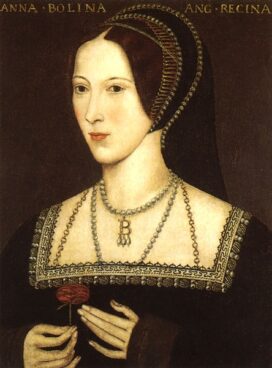 Best known as:
The beheaded wife of Henry VIII
---
Anne Boleyn Biography
Anne Boleyn was the second wife of Henry VIII of England and mother of the future Queen Elizabeth I.
A former lady-in-waiting for Henry's sister Mary Tudor, Anne Boleyn married the king in 1533 after his first marriage to Catherine of Aragon was annulled by Archbishop of Canterbury Thomas Cranmer. (Henry and Anne were married secretly first, then publicly in 1534.) Princess Elizabeth was born later that year.
Henry VIII was desperate for a male heir, and by 1536 the king had grown disenchanted with Boleyn; she was charged with adultery and treason, imprisoned in the Tower of London, and then beheaded on 19 May 1536. Shortly before dying she made a now-famous quip: "I heard say the executioner was very good, and I have a little neck."
Extra credit
Anne Boleyn's date of birth is unknown, but generally agreed to be sometime between 1501 and 1507… According to legend, Anne Boleyn had a small sixth finger on one hand; most modern historians believe that is not true. She may have had a prominent mole or other protrusion which was exaggerated over time… Anne Boleyn was played by Natalie Portman in the 2008 film The Other Boleyn Girl; Eric Bana played Henry VIII.
---
Related Biographies
Something in Common with Anne Boleyn
A Good Link
Sturdy detail from the BBC History site
Share this: