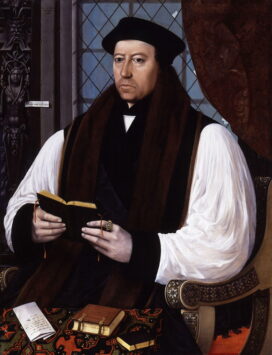 Facts about Thomas
Cranmer
Best known as:
The English reformer behind The Book of Common Prayer
---
---
Thomas Cranmer Biography
Thomas Cranmer was a key figure in the English Reformation during the time of King Henry VIII, and the man behind The Book of Common Prayer, a cornerstone of the Anglican Communion. Educated at Jesus College in Cambridge, he took orders in 1523. Within a few years, he was counsel to the king, thanks to his sympathetic view of the king's intention to divorce. The Archbishop of Canterbury from 1533, Cranmer annulled Henry's marriage to Catherine of Aragon that same year, leading to the king's excommunication from the Roman Catholic Church by Pope Clement VII, and setting the stage for the Protestant Reformation in England. Cranmer then married Henry to Anne Boleyn, whose child Elizabeth was declared legitimate (she went on to become Queen Elizabeth I). Anne failed to produce a male heir and fell from favor; she was charged with adultery and treason and beheaded in 1536. Cranmer also divorced Henry from his fourth wife, Anne of Cleves. Under King Edward IV, Cranmer produced the Book of Common Prayer (revised in 1552), the first prayer book to include the services in English, and still used today by the Church of England. He participated in the plan to put Lady Jane Grey on the throne instead of Mary (Henry's first daughter, who was a Catholic), was arrested for treason and, after several recantations and recantations of recantations, was burned alive in 1556.
Extra credit
While being burned, Thomas Cranmer was criticized for taking friends by the hand, by an angry opponent who demanded that Cranmer "agree to his former recantation." The eyewitness account goes on: "And the bishop answered, (showing his hand), 'This was the hand that wrote it, and therefore shall it suffer first punishment.' Fire being now put to him, he stretched out his right hand, and thrust it into the flame, and held it there a good space, before the fire came to any other part of his body; where his hand was seen of every man sensibly burning, crying with a loud voice,'This hand hath offended.' As soon as there got up, he was very soon dead, never stirring or crying all the while."
---
Something in Common with Thomas Cranmer
4 Good Links
Biography, works and related articles

Brief version of his bio

First-hand account of is public death

Collection from the National Portrait Gallery
Share this: