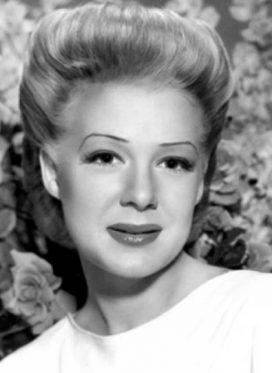 Best known as:
The original "Blond Bombshell"
---
---
Betty Hutton Biography
Name at birth:
Elizabeth June Thornburg
Movie star Betty Hutton was nicknamed "The Blond Bombshell" because of her extreme energy on stage and screen.
On Broadway in the early 1940s, she moved to Hollywood and played mostly comedic and musical parts; highlights included starring roles in The Perils of Pauline (1947) and Annie Get Your Gun (1950).
Her career peaked when she played a trapeze artist in Cecil B. De Mille's 1952 circus spectacular The Greatest Show on Earth (with Charlton Heston.) Shortly afterwards, a contract battle with Paramount Studios threw cold water on her movie career.
She turned her unhappy personal life around in the 1970s, with the help of a Rhode Island priest. She went on to earn a college degree from Salve Regina, a Catholic college for women in Newport, Rhode Island.
By the late 1980s she was teaching acting to students at Boston's Emerson College. Short as her film career was, Hutton is nonetheless remembered as an early prototype of the vivacious Hollywood blond.
---
Related Biography
Something in Common with Betty Hutton
2 Good Links
Her obituary from the AP, via The Boston Globe

Two decades of movies and television
Share this: