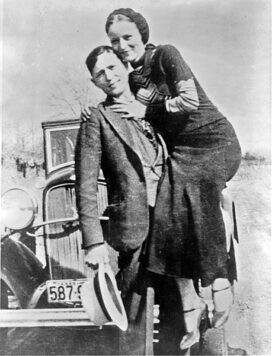 Best known as:
Half of the Depression-era crime duo Bonnie and Clyde
---
Clyde Barrow Biography
Clyde Barrow was part of the crime duo Bonnie and Clyde, Depression-era outlaws whose folk-hero status ended in a storm of bullets when they were fatally shot on 23 May 1934. His criminal career began in 1926, when he was arrested for stealing a car — a rental he hadn't returned on time. He met Bonnie Parker in 1930 in Dallas, and they embarked on a crime spree from Texas and Oklahoma to Missouri and Illinois, robbing small businesses and killing at least 13 people, mostly law officers. Clyde led the so-called Barrow Gang, which included his brother and sister-in-law, Buck and Blanche, and a gunman named William Daniel Jones. It's generally assumed that Clyde did most of the killing, while Bonnie wrote poems and sent letters to newspapers as a loyal partner. They were ambushed near their Louisiana hideout and shot to death by members of a Texas Rangers unit led by retired Ranger Frank Hamer.
Extra credit
While Clyde Barrow was doing a stint in prison in 1932, he chopped off two of his toes, in an effort to be transferred to a different facility. As it turns out, he didn't need to — he was paroled six days later… Clyde Barrow was portrayed on the big screen in 1967 by Warren Beatty, and in a TV mini-series in 2013 by Emile Hirsch.
---
Something in Common with Clyde Barrow
4 Good Links
Blog from an interested fan

Bio and grave photos from Find-A-Grave

Lots of photos and background

Photos and teaching materials
Share this: