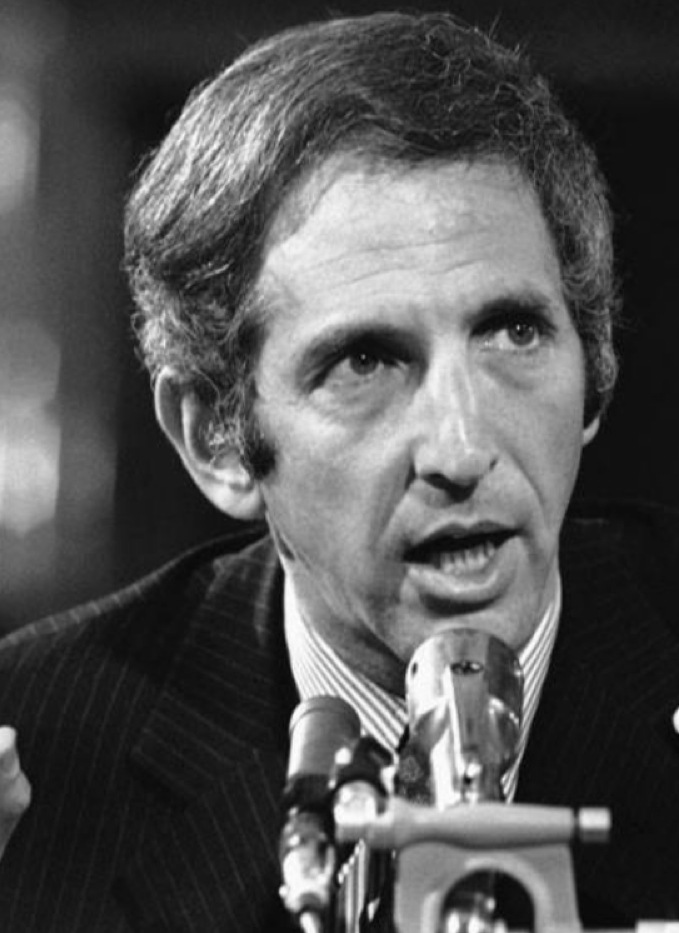 Facts about Daniel
Ellsberg
Best known as:
The whistleblower who released the Pentagon Papers in 1971
---
Daniel Ellsberg Biography
Daniel Ellsberg was as a Defense Department analyst when he went public in 1971 with what became known as the Pentagon Papers: top-secret government documents that outlined plans to escalate war in Vietnam.
Daniel Ellsberg grew up in Detroit and was a superior student at Harvard University, graduating in 1952. He spent three years in the Marines (1954-57), reaching the rank of company commander, then went to work with the Rand Corporation in 1959, working as an analyst and consultant to the Defense Department.
By the early 1960s, Ellsberg's task was focused on American involvement in Vietnam, and he was stationed with the State Department in Saigon from 1965 to 1967.
Back in the U.S. and again with Rand, Ellsberg was given government clearance to research classified documents. Among them was a 7,000 page study by Defense Secretary Robert McNamara on U.S. activities and plans in Vietnam, showing what Ellsberg considered misguided plans to escalate the war.
After being rebuffed through official channels, Ellsberg gave the documents to 21 national newspapers in 1971, including the New York Times and the Washington Post. This ignited a First Amendment fight between the the administration of President Richard Nixon, who dubbed Ellsberg and the press a threat to national security, and anti-war activists and news organizations, who fought for the public's right to know.
Ellsberg was acquitted of all charges after two years, largely because it became known that White House operatives had broken into his psychoanalyst's office in hopes of obtaining material they could use to blackmail him. (It was the same kind of break-in that led to the Watergate scandal, which forced Nixon to resign the presidency in 1974, and included some of the same shady characters, including Chuck Colson and G. Gordon Liddy.)
In later years, Ellsberg became an author, lecturer and activist against nuclear war and U.S. military intervention.
---
Related Biographies
Something in Common with Daniel Ellsberg
4 Good Links
His 2023 obituary from The Washington Post

His official site, with notes on his life and work

Here they all are! Now a distinguished collection in the National Archives

A college professor shares the history of his non-conviction
Share this: