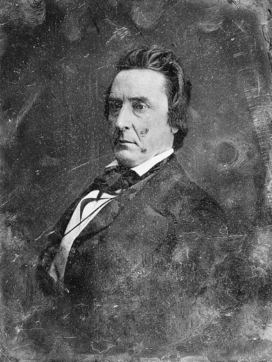 Facts about David
Atchison
Best known as:
The senator who was "president for a day"
---
---
David Rice Atchison Biography
A United States senator from Missouri (1843-55), David Rice Atchison is a lively footnote to political history: he's now known to trivia buffs as the man who was "president for one day."
Supporters claim that Atchison was president on 4 March 1849, when newly-elected president Zachary Taylor refused to take the oath of office on a Sunday. The term of incumbent James Polk ended that day at noon, leaving the office theoretically vacant until Taylor could be sworn in on Monday.
As president pro tempore of the Senate, David Rice Atchison would presumably have been next in line for the job, if a vacancy had been declared. But in actual practice Atchison was never sworn in or assigned the presidency in any way. The day passed without incident and Taylor simply took the oath of office on March 5th.
As years passed, however, Atchison's "term" became a popular bit of historical lore. Atchison helped the story along: his grave marker reads "David Rice Atchison — President of the United States for One Day." A pro-slavery Democrat, Atchison supported the Confederacy during the Civil War. The town of Atchison, Kansas is named for him.
Extra credit
Atchison, Kansas also gave its name to the famous Atchison, Topeka and Santa Fe railroad company.
---
Related Biographies
Something in Common with David Rice Atchison
4 Good Links
The U.S. Senate's own history of the big day

His memorial page at Find-A-Grave

Terrifically detailed analysis, cites the Constitution

The Internet Public Library's nifty page of presidential trivia
Share this: