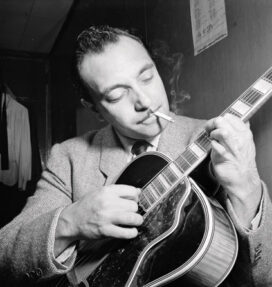 Facts about Django
Reinhardt
Best known as:
Gypsy jazz guitarist
---
---
Django Reinhardt Biography
Name at birth:
Jean-Baptiste Reinhardt
Django Reinhardt grew up a talented musician in a Gypsy caravan, traveling around France. He began playing American jazz in French clubs, along with Stéphane Grappelli in the Hot Club Quintet. Reinhardt's unique sound made him an international star, and he is credited with being among the first to elevate the guitar from a rhythm instrument to a solo instrument. He died of a stroke at the age of 43.
---
Something in Common with Django Reinhardt
A Good Link
Great background articles and guitar information
Share this: