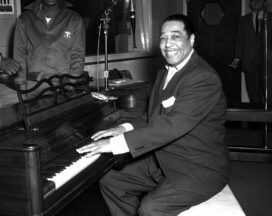 Facts about Duke
Ellington
Best known as:
Performer of "Take the 'A' Train"
---
---
Duke Ellington Biography
Name at birth:
Edward Kennedy Ellington
Duke Ellington started as a pool hall piano player and grew to become one of the great figures in American jazz performance. One of the first to use classical themes in jazz, Duke Ellington is considered one of the its most innovative composers as well. (Many of his later numbers were written with his longtime collaborator Billy Strayhorn, who wrote Ellington's signature tune "Take the 'A' Train.") At the height of his career, Ellington toured the world with his orchestra and composed many standards. His best known numbers include "Mood Indigo," "In A Sentimental Mood," and "It Don't Mean a Thing (If It Ain't Got That Swing)."
Extra credit
According to the official site of his estate, "Ellington got his nickname of "Duke" from a childhood friend who commented on his elegant manners, bearing, and dress"… Stevie Wonder's pop hit "Sir Duke" is a tribute to Duke Ellington.
---
Related Biographies
Something in Common with Duke Ellington