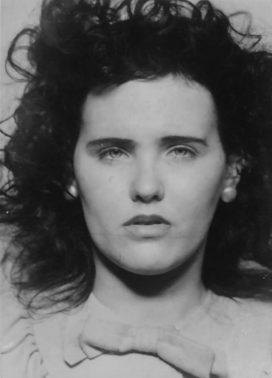 Facts about Elizabeth
Short
Best known as:
The "Black Dahlia" murder victim
---
Elizabeth Short Biography
Aspiring actress Elizabeth Short, now nicknamed the "Black Dahlia," was the victim in a notorious 1947 murder case.
The name was from the newspapers, a play on Short's supposed reputation for wearing black, combined with a popular movie of the time, the 1946 mystery The Blue Dahlia (written by Raymond Chandler.)
On 15 January 1947, Short's body was discovered in a Los Angeles vacant lot, cut in two at the waist and severely mutilated.
The gruesome nature of the crime and the Hollywood connection made the case a public sensation. It also became famous for the number of people who falsely admitted to the killing.
The case was never officially solved and became one of the earliest "true crime" sensations of the 20th century.
Extra credit
James Ellroy's 1987 novel The Black Dahlia is a work of fiction based on the Short murder. A 2006 film based on the novel starred Mia Kirshner as Elizabeth Short, and co-starred Josh Hartnett and Scarlett Johansson.
---
Related Biographies
Something in Common with Elizabeth Short
4 Good Links
Case files from the FBI

Long and rewarding 2016 story from The Guardian

Recap of the famous crime and mystery

Someone's pet project, with many details
Share this: