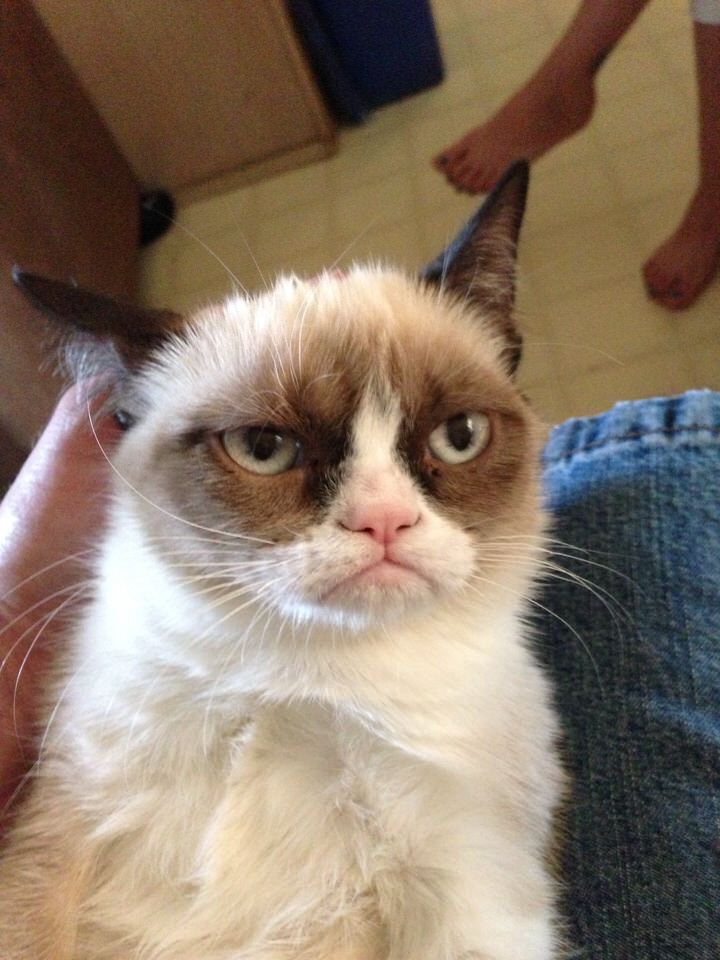 Best known as:
Popular frowny-cat Internet meme of the 2010s
---
Grumpy Cat Biography
Name at birth:
Tardar Sauce
Grumpy Cat is the pet whose ever-frowning face made her a favorite Internet celebrity in the 2010s.
Actually named Tardar Sauce, she was one of a litter of four cats born in 2012. Her owner, Tabatha Bundesen, later said that "her petite size and famous face is likely due to feline dwarfism." Whatever the reason for her frown, Tardar Sauce achieved instant fame when her photo was posted to Reddit later in 2012.
Soon known as Grumpy Cat, she became a reliable Internet meme and then a real-life celebrity, appearing on Good Morning America and other TV shows, lending her image to a series of books, her own annual calendar, and even starring in a 2014 made-for-TV movie titled Grumpy Cat's Worst Christmas Ever. By 2019, according to Wikipedia, Grumpy Cat had 8.3 million followers on Facebook, 2.4 million followers on Instagram, and 1.5 million followers on Twitter.
Grumpy Cat died in 2019; a report on her official site said that "Grumpy encountered complications from a recent urinary tract infection that unfortunately became too much for her to overcome."
Extra credit
On Grumpy Cat's official site, owner Tabitha Bundesen said that Grumpy Cat "is not a munchkin cat and was not bred purposefully from other munchkin cats." She said that Grumpy Cat's parents were "normal sized domestic short hair cats." Bundesen also said that Grumpy Cat "is a mixed breed; but looks to have some Persian, Ragdoll, or Snowshoe in her line."
---
4 Good Links
The whole Grumpy Cat phenomenon, recapped

The BBC reports on his 2019 death

All the details (and copious merch)

Entertainment Tonight vigorously pans her 2014 film
Share this: