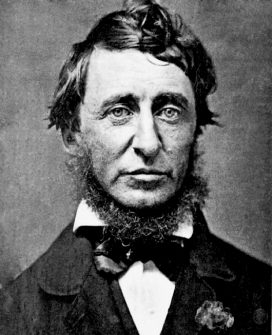 Facts about Henry
Thoreau
Best known as:
Author of Walden
---
---
Henry David Thoreau Biography
Name at birth:
David Henry Thoreau
Henry David Thoreau was a 19th century American writer, best known for his back-to-nature journals and poems, including Walden, or a Life in the Woods.
A former schoolteacher, Henry David Thoreau spent two years in the 1840s living in a one-room hut beside Walden Pond in Massachusetts, where he studied nature and wrote peaceful essays and poems. His journal of these years became his most famous work: Walden, or a Life in the Woods (published 1854).
Thoreau also wrote Civil Disobedience (1849), advocating non-violent resistance to unethical governments; the same notion was later advocated by Gandhi and Martin Luther King, Jr. Always a hit with college readers, Thoreau became a pop icon for anti-war and pro-environment groups late in the 20th century.
Extra credit
Thoreau was christened David Henry Thoreau, but switched to calling himself Henry David after graduating from Harvard… He was a lifelong bachelor… His single-room cabin at Walden Pond was 10 feet wide by 15 feet long… Thoreau spent two days and a night in jail — July 23 and 24, 1846 — after he refused to pay his poll tax as an act of civil disobedience… Among his sayings was, "Beware of enterprises that require new clothes."
---
Related Biographies
Something in Common with Henry David Thoreau
2 Good Links
Great links to Thoreau biographies online, from Transcendentalists.com

Encarta encyclopedia entry, with bios of Thoreau and others
Share this: