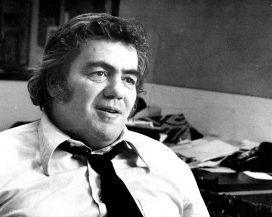 Facts about Jimmy
Breslin
Best known as:
Pugnacious New York City newspaper columnist of the 1960s-2000s
---
---
Jimmy Breslin Biography
Name at birth:
James Earle Breslin
Jimmy Breslin was the bare-knuckled New York City columnist who won a Pulitzer Prize in 1986 as the "champion of ordinary citizens."
Jimmy Breslin was born in Queens and attended Long Island University from 1948 to 1950, but by then he had already been working for newspapers for years as a copy boy and writer; he left college without graduating and went to work as a sportswriter for The New York Journal-American. The New York Herald-Tribune hired him as a columnist in 1963, and for the next six decades he kept writing for the New York Post, The Daily News, Newsday, New York magazine and other outlets.
As a columnist, Breslin "leveled the powerful and elevated the powerless for more than 50 years with brick-hard words and a jagged-glass wit," said his obituary in The New York Times. But he was also a funny and lovable sportswriter; his book about the 1962 New York Mets, Can't Anybody Here Play This Game?, was a best-seller. He won the Pulitzer Prize for commentary in 1986 for his column about a young man with AIDS; the Pulitzer committee said, "As a columnist, he found human angles that went straight to the heart of the story."
Ever pugnacious, Breslin ran for New York city council in 1969, on a ticket that included novelist Norman Mailer for mayor. He was also a successful novelist, with books including the Mafia satires The Gang That Couldn't Shoot Straight (1969) and The Good Rat (2008) and the dramatic novel Table Money (1986).
Extra credit
Jimmy Breslin married the former Rosemary Dattolico in 1954, and they remained married until her death from cancer in 1981. They had six children: sons Kevin, James, Patrick and Christopher, and daughters Rosemary and Kelly. Both daughters pre-deceased him; Rosemary died in 2004 from a rare blood disease, and Kelly died of heart trouble in 2009… Jimmy Breslin remarried in 1982, to Ronnie Eldridge, and they remained married until his death in 2017; she was a member of the New York City Council from 1989-2001.
---
Related Biography
Something in Common with Jimmy Breslin
4 Good Links
The New York Daily News tells his story

His 2017 obituary from The New York Times

A reprint of Breslin's famous 1963 column

The Pulitzer committee shares its thoughts and a winning column
Share this: