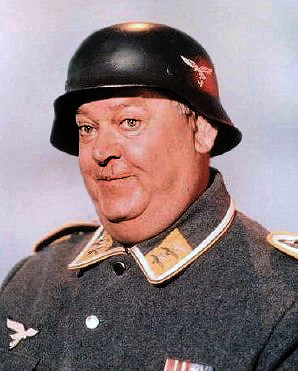 Best known as:
Sergeant Schultz on Hogan's Heroes
---
---
John Banner Biography
Name at birth:
Johann Banner
John Banner, a Jew, fled his native Austria in 1938 after the Nazi Anschluss. Years later he got his revenge by playing the buffoonish German sergeant Hans Schultz in the popular American TV series Hogan's Heroes. Sgt. Schultz's nervous catch-phrase, "I know nothing! Nooooothing!" is still in pop culture circulation.
Banner had other character roles in many movies, including To The Victor (1948), Never Say Goodbye (1956) and The Interns (1962); he played Nazi Rudolf Hess in Operation Eichmann (1961).
John Banner died while on a visit to Vienna in 1973. An obituary in the Long Beach (CA) Independent said that he died in Vienna's Sofien Hospital "after he suffered an abdominal hemorrhage… Banner and his wife recently bought a home in France and they were in Vienna awaiting a shipment of furniture when the actor was stricken."
Extra credit
John Banner's co-stars on Hogan's Heroes included Bob Crane as Hogan and Richard Dawson as Newkirk… John Banner's wife, Christine Banner, survived him. The couple had no children.
---
Related Biographies
Something in Common with John Banner
4 Good Links
His obituary from the Long Beach (CA) Independent

Photos of his grave in Vienna, plus notes

All his film and TV roles, from the Internet Movie Database

An old-time Hogan fan site, with various Banner tidbits
Share this: