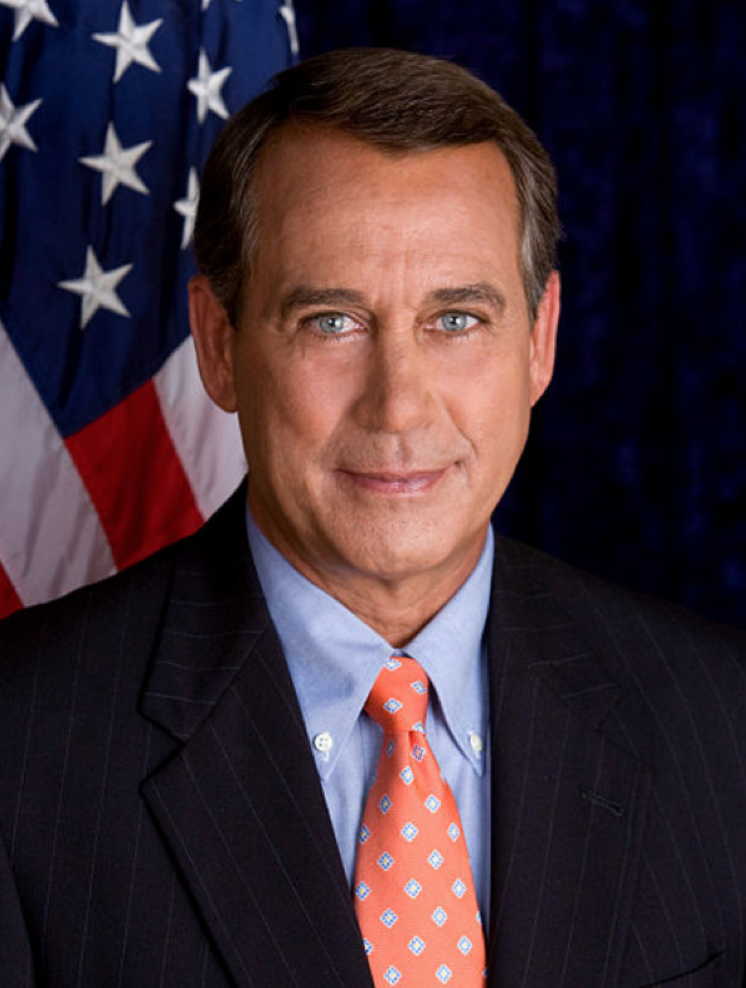 John Boehner
is 74 years old
Best known as:
U.S. Speaker of the House, 2010-2015
---
John Boehner Biography
John Boehner was a longtime Congressman from Ohio who served as Speaker of the U.S. House of Representatives from 2010 until his sudden resignation in October of 2015.
A lifelong Ohioan, John Boehner graduated from Moeller High School in Cincinnati in 1968. He enlisted in the Navy, but was discharged after two months due to a bad back. His family was not wealthy, and Boehner worked his way through Xavier University, graduating in 1977. He went to work for a plastics company called Nucite Sales, rising to become its president and buying the company after the original owner died.
Boehner was elected to the Ohio House of Representatives in 1984, and in 1990 he was elected to the U.S. Congress from Ohio's 8th District. He soon became part of the so-called Gang of Seven, a group of young GOP representatives who loudly accused Democrats of corruption, and he was also a loyal supporter of Newt Gingrich and the 1994 "Contract With America."
From 1994-98, Boehner was chairman of the House Republican Conference; he lost that job in 1998, but doggedly worked his way back to the top of the party structure. He became House minority leader in 2006, and when Republicans gained control of the House in the 2010 elections, John Boehner became Speaker of the House. (He succeeded Democrat Nancy Pelosi.)
As Speaker, Boehner proved to be an effective political operator, and was also known for his tendency to get emotional while giving speeches. He was famous for shedding tears on camera.
On September 25 of 2015, John Boehner announced that he would resign from Congress, effective at the end of October. While he didn't give a reason for leaving, The Washington Post noted that he had been "faced with a constant conservative rebellion" in his own party. The resignation came one day after Pope Francis spoke before Congress; Boehner, a devout Catholic, was said to have had a longtime wish to see a pope address Congress.
Rep. Paul Ryan of Wisconsin was elected to replace Boehner as Speaker, taking office on October 29, 2015.
Extra credit
John Boehner's name is pronounced "bay-ner," according to his old Congressional website… John Boehner is "the second-oldest of 12 brothers and sisters," according to his official bio… He married his wife, Debbie, in 1973. They have two daughters, Tricia and Lindsay… He smokes filtered Camel cigarettes, according to a 2010 story in The New York Times… John Boehner's deep all-year tan was a steady topic of jokes for comedians and his fellow politicians. "He is a person of color, although not a color that appears in the natural world," Barack Obama joked at the White House Correspondents' Dinner in 2009.
---
4 Good Links
The Washington Post covers his 2015 leave-taking

2010 backgrounder from Business Week

2019 piece with pictures of the picture and forced camaraderie

Google News offers recent stories about (or mentioning) John Boehner
Share this: